Jim Peterson: March Prayer Letter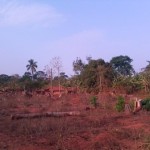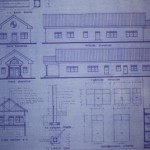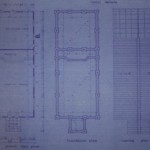 Dear Praying Friends,
It is hard to believe that Easter is just one week away.  We have been working and planning for this big highlight of our church year.  We are hoping for an exceptional year, but we have some hurdles to jump.  Our biggest hurdle is the construction of the gutter in front of the church.  This is much needed and if completed, at least past the church, by Easter, then we will lay wood planks across so it will be easier for people to get to the church.  If you want to see more pictures, please go to my Facebook page – James P Peterson.
We are praising the Lord for His goodness as we have seen many people come to Christ in the last few weeks.  Recently Adu Paul and I were able to present the Gospel to Adu's father, uncle, and several friends.  Adu's father and uncle received Christ was their personal Savior!  This was an answer to prayer for Adu Paul, as the age difference was a stumbling block for his father.  Since I am older, and have grey hair, his father listened to me and the Holy Spirit for quickened his dead spirit.  Then last week in the morning worship service in Adutwie, two men received Christ as their personal Savior.  We are praising the Lord for His goodness and His mercy!
Blueprints have been drawn for the Adutwie church building and, Lord willing, we plan to start the foundation within the next few weeks.  Please pray more help to finish our building.  The Tuobodom church has given over a $1,000 to help with the building and there have been several other churches from the states that have also helped.  Thank you and may God richly bless your generosity!  We are in need of $15,000 to finish this building.  If the Lord lays on your heart to give to this building project – in any amount – we will be most grateful for your generosity.
We are praising the Lord for His goodness to Donna.  There has been no change in her medication for almost nine months and her parathyroid is doing fine.  "God is good all the time, all the time God is good!"  Julia is doing well, and I had a case of malaria, but treated it quickly and am back to normal.  The rest of the family, Rachel, Tom, Eden, Rebecca and Jon are all doing well.
Prayer Requests:
1)       Pray with us for the funds for the Adutwie building.  We have need for the cement blocks (walls), roof, windows, and doors.
2)       Pray for safe travel as Pastor Steve Volante, Pastor Tim Matthews and I, with several African pastors will be going to the Southern region of  Mali to encourage the Malian Pastors and believers.
3)       Adu Paul has surrendered to go to Bible School.  Pray all the paperwork comes together so that he can start this fall.  Praise the Lord!  He has been very instrumental in the church since Pastor Ameyaw's accident.
4)       Pray for continued healing of Pastor Ameyaw's leg.  He is been gaining strength every day.
5)       Pray for our Easter service next week.
We want to thank all of you for your prayers and financial support.  You are a very important part of our work here in Ghana.  May the Lord Bless You!
In His Service,
Jim, Dona, and Julia Peterson