Samuel Appiah: April Update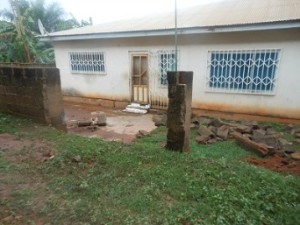 Dear Partners in Ministry,
Greetings from Ghana West Africa.  I trust that you are all doing well.  We praise God for Eric who has been visiting our church.  He would come for a season and then stop.  Last Saturday, Pastor Steve, Bro. Ben and I paid him a visit and by His grace, Eric did receive Christ as Savior.  We were very excited knowing that now in Christ, he will begin to grow and mature in the Lord.  What a joy it was to see him at Church.  Eric is a very hard working business man.  Please, pray for his spiritual growth.
We had severe storms recently with heavy rains, which destroyed so many things in our town.  The whole town had no electricity for a season as a result.  At a point in time when the lights came back on, I decided to switch off some lights.  I am so grateful to the Lord for letting that happen, because by the time I stepped into our living room, I saw that from our kitchen to the store room and on to the living room were all being flooded.
Part of the walls behind our house broke; the walls which separate our house from the school buildings.  Then the strong force of the erosion broke part of the walls on the side of the house.  We are thankful to God that no damage was done inside our house, but lots of work is needed to be done to clean up all the dirt and water.
We had some masons and other workers rebuild the broken walls.  Please, pray with us for the Lords provision and guidance.  Many of you have been here before and know where our house is located.  Behind us, in the woods, is a drug dealer's base here in our town; having the walls up helps with our security.  Almost all the drug dealers here in our country deal in robbery, so we are a bit concerned; thus your urgent prayer need.
Concerning our trip to Mali, due to the unrest that is still there, we were advised to postpone it.  Please, continue to be in prayer with the brethren for the Lords protection, guidance and provision of their needs.
Thank you for your faithful prayers.  Thank you, also, for your faithful financial support and encouragement in the ministry here in Africa.  Please, pray with me.
In Christ,
Pastor Samuel Appiah & Family