Samuel Appiah: Easter Update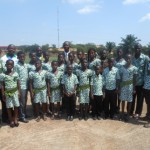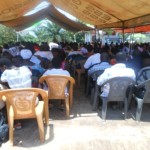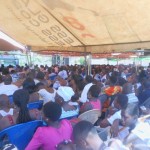 Dear Partners in Ministry,
I bring you greetings from Techiman, Ghana West Africa.  I trust that by His grace, you are all doing well.  We are doing fine too.   A lot has taken place after a successful program on Easter Sunday.
We are so very thankful to the Almighty God for His leading and blessings here in the various ministries He has entrusted to our hands.  On Easter Friday at church, we had a teacher visit us from one of the public schools at Aworowa; a village where we hope to start a church in the near future.  We are so thankful to God that He came to know Christ as personal Saviour.  Right after Friday's service, we went out with gospel tracts which were written by our Pastor, Steve Volante to invite as many as possible to our Easter Sunday Service.  During our visitation time, Pastor Joseph A. Korang and I were able to lead two people to Christ and are so excited to hear from Pastor Gilbert that they were at Church on Easter Sunday.  Praise the Lord!!!
God allowed me to preach on "Christ as King" on Saturday afternoon on one of the Radio Stations here in town.  I give God all the glory for using His word to touch hearts and to have people at church on Sunday as a result of it.  We had different pastors on the radio in March with different topics.  We were able to get the gospel out, not only to the people in Techiman, but to the surrounding villages and towns.
Easter Sunday Service here in Techiman was our highlight.  We had about 700 adults and 850 children in attendance.  We give all the glory to the Almighty God for using and allowing us to work in preparing for this great day and at the end of the message, which was preached by Pastor Steve, we saw thirty adults come to receive the Lord Jesus Christ as Savior!  Over one hundred children received Christ after Sister Jana Matthews taught them!
We are really thankful to God for His strength and the team efforts during all the various preparations towards Easter.  We were able to feed almost 1,800 people!  The Lord did it all!!!!
Thank you for your faithful support and encouragement in the ministry here in Africa.  Please, pray with me.
In Christ,
Pastor Samuel Appiah & Family