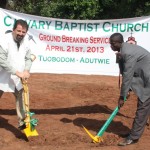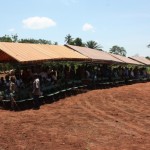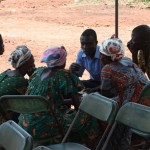 Greetings from Ghana!
There has been so much for us to report.  After Easter we had planned to take a trip to Mali.  We planned to help some displaced believers from northern Mali to establish a new Independent Fundamental Baptist Church.  Unfortunately, due to the expense, we had to postpone the trip.
Recently, a groundbreaking service was planned, and Pastor Tim Matthews from Middleton, TN,  came to Ghana (for the second time) with the intent to go to Mali.  Since the Mali plans were put on hold, Pastor Tim was to be our keynote speaker for the Adutwie groundbreaking.  On Saturday, April 20th, we had a video show on the church property.  Pastor Tim preached a message during a break halfway through the film.  After Pastor Tim's message, thirty people prayed to receive Jesus as their personal Savior!  Praise the Lord!
Just as Pastor Tim finished preaching, we received word that Jana, his daughter, was struggling with malaria.  She was admitted in a nearby hospital (she was hospitalized for 4 days).  As every father would, Pastor Tim was by his daughter's side, so Pastor Steve Volante became our keynote speaker for the groundbreaking service with Pastor Godfred translating.  The Lord used Pastor Steve's message to move several more people to pray and receive Jesus Christ as their personal Savior.  What a totally awesome day for the LORD!
On Sunday, we transported all of the adults from Tuobodom to the Adutwie services.  The LORD blessed us with awesome weather.  We had over 200 people in attendance for the morning worship service.  My message was from Hebrews 12:1-2, and after preaching the morning message, ten people prayed to receive Christ as Savior!  Again, I am amazed how God uses frail preachers like me to preach His Word, and how the Holy Spirit moves people with that word.
There has been a lot of progress on our building project.  We had two loads of sand and gravel dropped on the property, and had delivered 500 – 6" solid cement blocks, and 1,000 – 5" cement blocks.  Lord willing masons should start next week on the project.
We covet your prayers for additional funds to complete the building.  We have money to put in the foundation and pour the floor, but need another $12,000 to $15,000 to finish the building.  Would you pray and ask the LORD  what He would have you send to help this project?  If the LORD moves you to help in this project, your donations can be sent to Mount Abarim in Texas.  Just make a note that it is for  the "Adutwie Building Fund."  Thank you!
After returning from our Adutwie ministries, there was an open door meeting in New Krobo, and Pastor Tim was the speaker.  Over thirty people were moved by his message.  I was given the privilege to further present the Gospel, and three young people prayed to receive Christ.  On Sunday, April 28th, they had the building dedication for Calvary Baptist Church of New Krobo.  We are seeing decisions being made for Christ every week!  Praise God for His goodness!
Would you consider coming to Ghana for a two week missions trip?  You will never regret your experience!
In His Service and Awaiting the Shout,
Jim, Dona, and Julia Peterson