Samuel Appiah: May Prayer Letter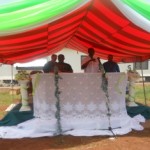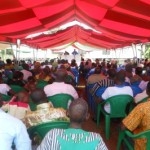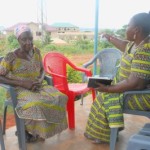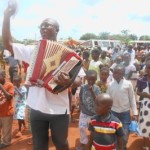 Dear Partners in Ministry,
Greetings from Techiman, Ghana W. Africa!  Thank you for your faithful Prayers and Financial Support for my family and the various ministries here in Africa.  You are a blessing to us!!!
We are very thankful to the Lord for His daily protection and provisions.  We were very busy in our preparations to have a wonderful Lord's Day at New Krobo (a suburb of Techiman).  We are very grateful to God for allowing us to have the new work there dedicated to Him.  It is interesting as to how the decision was made to have another church started there…the only bridge that links Techiman and New Krobo was broken due to a severe rainstorm.  This was news for some time.  People who lived behind the Tano River struggled to cross the river every day from Techiman to visit the market.  We realized the huge number of people who were moving from Techiman, and the other villages, to settle in New Krobo, and immediately organized special outreaches and had a three-day Open Air Meeting.  As a result, many souls were saved and a fellowship was started right away.  Without a doubt, the Lord opened another way for us to reach people at New Krobo for Him!
In short, people were baptized to join our church, and last Sunday we had the joy of dedicating a new building for the church.  Pastor Godfred and his family stayed to Shepherd the flock.  We also have a few additional rooms for all the female orphans in our Orphanage. They will move from their present home to New Krobo.  This has come as a result of a demand from our government to have more rooms built before we are allowed to adopt more children into our Orphanage.  Sorry, we did not get a picture of the building, but you can see it on my Facebook page (Samuel Kofi Appiah), or that of Pastor Steve Volante.  I included some of the pictures he took for me during these special meetings at New Krobo.   The Lord blessed us with a great message by Pastor Tim Matthews from Middleton, TN.  Attached is a picture of Vester, my wife, leading an old woman to Christ after the message.  To God be all the glory!!!
Recently, I preached on "Shaped By Grace" in our church morning service.  Praise the Lord with me for three souls who got saved after the message!!!  One of them was here at our church office to talk to me.  (He and another man who got saved work at "ASPET A," a warehouse company with almost 500 workers.)  He has promised to invite many of his friends to visit our church.  Please, pray for the Lord's will to be done.
Lois, our eldest girl, will soon be going back to school, which is about an hour and half away from us.  Parents are allowed to visit only once a month (1st Sunday every month).  Lois wants to be a doctor and is in a science program.  I pray that the Lord's will is done in her life.  She still has a long way to go as she is in the Senior High School; Form One.  Your prayers are always appreciated.
Awaiting His shout!!!
Pastor Samuel Appiah & Family