Jim Peterson: September Update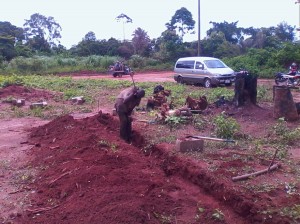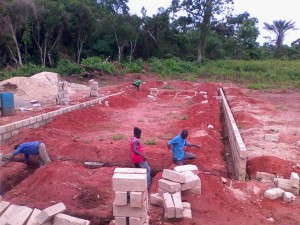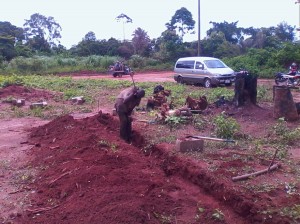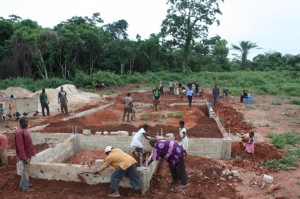 Greetings from Ghana,
It has been awhile since we last wrote to you all!  It is not because we have not wanted to write, but that we have been extremely busy with the work here.
In May, we started the Adutwie church building project.  Attached are some pictures so you can see the progress thus far.  We have all the cement blocks for the walls, but still need some financial help with putting the roof on the building!  When the roof is on, then we will be able to meet in our building rather than the schoolroom.
In June, there were two mission's teams visiting here with us.  We had a group of 10 from PCC were here for about 10 days.  They were a wonderful blessing and help to the ministry.  They came out to our Adutwie ministry where the young ladies worked with our children's Bible team and the young men were out on visitation.  We saw many young people come to the saving knowledge of Jesus Christ.
Just a few days later we had a group 27 people come from Worth Baptist Church in Fort Worth, TX.  Dr. Willie Weaver, Youth Pastor Tyler Gillet, and the team blessed us with great preaching, special music, and a ministry of love.  Dr. Weaver preached in Tuobodom, and five of the ladies sang special music.  The Lord blessed both of these groups with over 500 people coming to know the Lord as their personal Lord and Savior.
There are so many wonderful things happening here.  First, I believe that our ministry in Tuobodom has come to a completion, and I feel that Lord wants us to move on.  (I have had this feeling for over two months now.)  We have labored in Tuobodom for nine years and built two church buildings.  I came to Ghana as a church planter missionary.  We started working in this church plant in 2003.  The church is now very close to being self-supporting, and I believe that Pastor Ameyaw Daniel is ready to carry the church forward.  Pastor Ameyaw was trained in our Bible school and has been the assistant pastor for the last four years.  The Tuobodom work will be placed into his hands.  I plan to come back from time to time to encourage Pastor Ameyaw and the church; much like Paul did to the churches he planted.  The one thing that I would ask you to pray for is that he gets married.  He does have a girl that he is interested in, but no wedding plans.
Secondly, Pastor Steve Volante was called to the Mount Abarim home office for a meeting.  This emergency meeting was with Dr Mike and Bill Patterson about the future leadership of Mount Abarim.  Dr. Mike Patterson suffered another heart attack and other physical ailments which have caused him to think about the over-all running of the mission.  Pastor Steve has been named the General Director for Mount Abarim with many additional duties being added to him. Pastor Steve will split his time between Ghana and the United States.
Pastor Steve left for the States two weeks ago, and has asked me to come back to the Techiman church to assume some responsibilities and share others with Pastor Samuel Appiah.  I have prayed and feel that this is the Lord's leading for our ministry right now.  The Techiman church has a Bible School student (Joe Bonsu) in his final year who will be added to the pastoral staff of the Techiman church as an assistant pastor shortly after graduating.  Joe and I will be doing some survey work in the outskirt sections of Techiman.  We will then start a Tuesday visitation program in one of those areas.  We will then transport the people from that section to the main church for some time.  The plan will be to plant another church in that section of Techiman.  This would make three Calvary Baptist Churches here in Techiman (the mother church and two daughter churches).  Please pray for this new ministry.
Thirdly, I will continue with the building project that we have started in Adutwie.  I am currently arranging the preaching schedule for Sunday mornings in this village, and plan to visit one Sunday a month.  Deacon Ben Opuku has agreed to go out two Sundays.  Pastor Ameyaw said that he would handle the last Sunday.  Aduo Paul is a young man from the Tuobodom church who has indicated that the Lord has called him to be a pastor.  He has just started his Bible School training, but it is our hope that he will become the pastor of the Adutwie church.  Dona and I will continue our Friday visitation and Children's Bible Club.
I have finished off all my work for a Bachelor's degree in Evangelism and Missions.  I do have a plan to start working toward my Master's degree, but I may wait until we return on furlough in 2015.
In His Service,
Jim, Dona, and Julia Peterson