Steve Volante: October Prayer Letter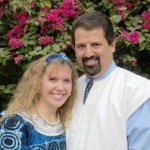 Dear Praying Friends,
Even though our bodies are back in the USA, our hearts are still in Africa.  Please continue to pray with our faithful team of African pastors as they continue to work together for the advancement of the gospel.  Here are some pressing needs we would like to share with you about the ministry both in Ghana and in the USA.
Please pray for our mission's president, Dr. Mike Patterson, as he continues to recover from a massive heart attack.  He was struggling with weakness and excessive water retention until his doctors recently changed and stopped many of his medications.  Watching him, we can clearly see that with all his spiritual heart, he wants to continue serving the Lord until He comes.
On September 21, 2013, Pastor Peter Kontor, one of our assistant pastors at Calvary in Techiman, relocated his family to Bui to lead the ministries in both churches in Bui and Jama.  This will be Peter's first assignment as a missionary sent out of our church in Techiman.  Please pray that God would touch the hearts of a few churches or people to support Peter for $50-75 a month while he works fulltime to get these ministries established.
This school year will have the first graduating class from Hope International Senior High School.  We are also overjoyed to report that we have just recently been approved as a testing center by the educational division of our government.  Our students will be allowed to take their final exams on our school campus as an accredited school.
We arrived back in the USA on September 10, 2013, and stayed with some dear friends, Mark and Flossy Loop, while we gathered furniture and needed things from the loving membership of Worth Baptist Church in Fort Worth, TX.  Jacob and Crystal Schumann, members at Worth, have been kind enough to allow us to stay in their vacant home until we find a place to stay.  Great thanks to Dr. Weaver for his loving support during our time here.
The key to a church planting ministry is the giving of God's people to send missionaries to carry the gospel to a needy world.  Would you pray for this year's Faith Promise Missions Conference in Techiman?  All of our churches in the Techiman district will come together for a great mission's day on Saturday October 26th.  Pray that revival will break out and many will surrender to give, go, and pray!
While we are home, we would like to visit some of our supporting churches.  Lord willing, we hope to return to Ghana by the end of January, 2014.  If you would like to have us come and share what God has been doing in Africa and our plans for the future, please write me at smvolante@aol.com or postal mail at PO Box 173067, Arlington, TX 76003-3067.
Thank you for counting us worthy to represent you in Africa.
Pastor & Mrs. Stephen Volante