Jim Peterson June 2014 Update
Hello from Ghana!
The last 8 weeks have been filled with so much!   We have had two ministry teams here.  One from Pensacola Christian College (Dr. and Mrs. Reese made their 6th trip to their second home in Ghana), and the other was from Bible Baptist Church in Oklahoma.  They both groups had 15 team members.  They were both here for about 10 days of soul winning and discipleship.   God was using them and us as we went out spreading the Good News of Jesus Christ.  There were hundreds of men, women and children that responded to the Word of God and received Christ as Savior.  We now have the follow up work on those that prayed, and now to disciple those in their new found faith in Jesus Christ.  This is not going to be done overnight; it is going to take us some time to complete.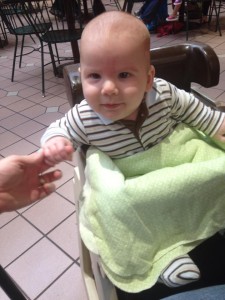 Dona and Julia returned back to Ghana on May 1st after spend 8 weeks in the States to help our daughter Rachel with our newborn grandson, Brady Thomas.  This picture was taken recently and he has really grown over the last two months.  I'm looking forward seeing him in person next year.    Dona and Julia had a wonderful time back in the States, they were able to see most of the family, which is getting scattered around the country.
When they arrived they brought a gift from our home church (Calvary Baptist church) for the Adutwie church building project. We now have the roof and doors completely on the building. We are getting closer to having the Adutwie church finished completely.  We held an opening ceremony for the church building on May 4th.  We did this so that we could meet in the church building rather than the school.  This was an exciting time for the church.  We have seen an increase in attendance on Sundays since moving to the property.  The Children's Bible Club that meets on Fridays has also increased in size too, from 30 children to now running around 60 – 80 every week.  Even this last Friday there were 40 children waiting for us to arrive at the church!  Praise the LORD!
The masons are going to start plastering the outside and inside next week.  We have to construct a gutter to direct the water away from the building.   There are still some needs to be met on the Adutwie church building, and we are looking for the Lord to provide the finances necessary to complete the building; electrical wiring (lights and ceiling fans), screens for windows, screen doors, and paint the outside and inside of the building with oil paint.  Would you pray with us, as we look to our God for needed funds of about $2000 to completely finish this building?Since moving to our property the church has added Sunday Evening services and have changed their Tuesday Night Prayer Meeting to Wednesday (Pastor Ameyaw covers the 1st Wednesday of every month).  Pastor Ameyaw and I have made a schedule for covering the preaching assignment.  The 1st, 3rd, and 5th Sundays I cover all the preaching assignments.  We have set the time for Sunday Evening Service for 5:30pm, so that both Pastor Ameyaw and I can return to preach the Evening services in Tuobodom and Bamiri.  As you can see some Sundays are extremely busy for me.  Praise the Lord for the busyness of His work!
We are now focusing on the work in Bamiri.  We have been able to purchase a nice piece property between Techiman and the village of Bamiri.  The lot is approximately 110' x 300' (this is two large building lots).  This property was purchased as a gift from Bible Baptist Church of Chickasha, Oklahoma.  We want to thank Pastor Kim Hayes and the members of Bible Baptist Church for their generosity, and pray that the Lord richly replace what you all have given to the work here.
The whole pastoral staff of all the Calvary Baptist Churches were paired off with the group.  We held an open air meeting and video show in Bamiri on Friday night.  They were given a tour of all the churches in the Techiman District where they had given money to help build buildings.  It was a joy for them to actually see their endeavors.  All the men had opportunities to preach in the different churches.  This was very exciting for them. The team from Chickasha were very busy with soul winning everywhere they went.  On June 19th -20th (Thursday and Friday morning) we setup a tent and had an open air meeting in the market.

The very 1st night the group were here in Techiman, Pastor Kim, his wife Shirley, and two other ladies, Phyllis and Aleah, came to Adutwie for Wednesday Night Prayer Meeting, and one man received Christ through the preaching.   This was different for them because this village doesn't have electricity yet, so we had to do everything by flashlight and candles.  God doesn't need lights for a person to understand they are lost and take Christ as Savior!  Amen!  As have we stated earlier in this update hundreds of people came to the saving knowledge of Jesus Christ.  We are looking to the Lord now for His help in building the new church house in Techiman/Bamiri.  Will pray with us on this building project?
It's hard to believe that we have been in Ghana for 4 years.  We are planning our next furlough in May of 2015.  If you are having a Mission's Conference, VBS, or Day Clubs and would like us to help, please send me an email with your times to see if we will be available (We do have some appointments scheduled). We are also looking at raising some more financial support to replace what we have lost in this last year.
We will be doing some traveling this time as some of our family are now living in Montana, and upstate New York.  Thank you for your faithful prayer and financial support of our ministry here in Ghana.  We will be looking forward to seeing some of you this year as we report to your church.  May our God richly bless you all!
In His Service,
The Petersons
Jim, Dona, and Julia