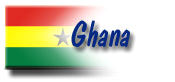 Samuel Appiah: January 2015 Prayer Letter
Dear Partners in Ministry,
I bring you greetings from Techiman in the Brong Ahafo of Ghana W. Africa.  I trust that you are all doing well by the grace of our soon coming Savior and King; the Lord Jesus Christ.  We are thankful to God for His blessings throughout the year 2014.  Even though we passed through lots of challenging times, His faithfulness in directing us kept us going for Him and for His work.
The Lord has greatly allowed and blessed me in leading the work here in Africa since my pastor, Stephen Volante, left Ghana almost six months ago.  We have seen many souls saved through our regular visitations on Tuesdays and Saturdays.  We have also seen many come to Christ after our main Sunday worship times.
While my Pastor and the family were here in Africa with us, we had a few group of friends visit us from the United States, which have also always been of a great encouragement to us.  During those said visits, we see many souls saved as well.  To God be all the glory!!!  It has always been a blessing to have an opportunity to be on Radio preaching the Gospel of our Lord and Savior Jesus Christ.  We were on radio preaching every evening during the week before Christmas and the Lord again richly blessed.
With the help of the Worth Baptist Church in TX, we were able to give away one hundred Bibles on the first Sunday of this New Year.  We thank God for the souls saved on that special "Bible Sunday."  Pastor Jim Peterson preached, and I followed-up after him with the gospel message.
Two weeks ago, I was invited by Dr. Timothy Seidu to participate in his wedding after his dear wife was called home to heaven in the United States almost two years ago.  I also had an opportunity to preach at the Faith Independent Baptist Church which the Lord has allowed him to plant.  While there, unexpectedly, I received an invitation to preach on the biggest radio station in the Region, which I know was an opportunity the Lord gave; again for His Good News to be shared.  The Lord, again, greatly used me for His glory!!!  I give Him all the glory for the great results.
Concerning my family, Vester is doing very well health-wise.  Lois is at School doing a Science Program.  She will be writing the WASSE in May and June, which is the expected examination to get into Collage.  Michelle is also at the boarding house at where our Senior High School is at.  She is also being prepared for the BECE which is the requirement for the entrance into the Senior High School.  Please, be in prayer with us on behalf of our two girls for the Lord's successes.  Christiana, our third born, is doing well by His grace. Health for me has not been the best.  I just thank God for His daily grace to work for Him.
If God wills, I have plans to visit the United States this year and report to my supporters as to what the Lord is doing with us here in Africa. In many ways, I know I will greatly be blessed as usual to return to Ghana with challenges to do more for our Lord.  My tentative dates are to leave Ghana on the 10th of September and to return on the 7th of December, if God wills.  I will keep you all posted as to what the plans might be once they are finalized.
I will be interested in visiting with you and report to your church family about the work here in Africa.  Please let me know so I can make plans.  Please, pray with us concerning Dr. Mike Patterson and his health.  Also, pray for my Pastor and his family's safe travel back to Ghana next month.
Thank you very much for all you do for us.  Your prayers and financial support have always been a blessing.  We are truly very grateful to God for you all.  Please, greet your families and the brethren on our behalf.
Awaiting His shout!
Pastor Samuel & Family