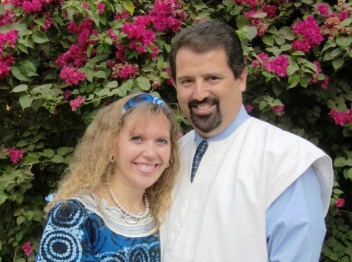 Steve Volante: January 2015 Prayer Letter
Dear Friends,
For the past three years, I have come off the field to help host the Mount Abarim Baptist Missions annual conference on world evangelism and compile the Abarim Annual Report, which you should be receiving by mail and on our website very soon.  While in the USA, we have had the joy of participating in several missions' conferences, hoping to burden people for the needs of the world and to recruit more missionaries to join the Abarim family.  This year, I had the special privilege of working with Worth Baptist Church and Bible Baptist Church on a new evangelism ministry for their churches.  This ministry is called Warm Contact Evangelism.  Please pray for these churches to see a great harvest of souls.
Lord willing, we plan to fly from Dallas on February 18th and land in Ghana on the 19th.  I was not able to fly back to Ghana in December as planned to set many things in order for 2015 and to encourage our pastoral staff with the vision God has given us for the new year.  Please pray with us for God's strength and blessings as we return with joy to continue the work there He has entrusted to our care.
Due to the outbreak of Ebola in Liberia, many of our regularly scheduled missions trips for this summer have been rescheduled to 2017.  These regular visits have been such a great blessing and encouragement to our ministry; we hurt inside knowing you all will not be coming this summer to labor with us.  But, on a positive note, we do have one diehard group from Heritage Baptist Church in Vinton, VA, that is still planning to come and help us host a special Family Conference this summer.  Please pray for their safety and that God would greatly use them.
This year, God has heard our prayer and blessed the growth of our high school ministry.  We now have 161 students studying on our Krobo campus, as well as 800 back on the Techiman campus.  These blessings have brought about some needs that we would like to share with you.
Would you pray about helping us to buy some much needed desks and chairs, as well as beds for the dormitories?  (The need $1,800.)
In closing, I would ask you to check out our latest ministry video update at, www.mountabarim.org/volante/ and write me to let me know what you think.
For Eternity,
Pastor Stephen J. Volante