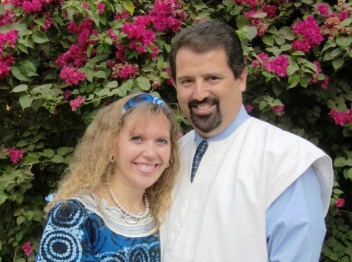 Steve Volante: March 2015 Prayer Letter
Dear Friends,
In the month of February, we had the joy of helping both Worth Baptist Church and Bible Baptist Church kick-off a new Warm Contact Evangelism plan for reaching friends, neighbors, relatives, and co-workers of their church members.  Both churches are using the book I wrote called The Eight Sacred Laws of the Disciple for their adult and teen Sunday School curriculum.  Please pray for abiding results from their studies and purposeful outreach.
We were busy at the beginning of February packing our belongings and saying goodbye to our friends and family.  Then on February 18, we flew from Dallas back to Ghana.  We were warmly welcomed home by our fellow pastors and church members in a special Saturday morning welcome service according to African protocol.  It was lovely!
On Sunday, February 22, I had the joy of preaching in both the morning and evening services and saw two souls saved.  On Monday, the Techiman Pastors met to give reports on their ministries and hear my heart for our upcoming Easter program.  Our hearts were knit together like I had never left.  We are now busy getting ready for the Adutwie Building Dedication on March 15.  We hope to see many saved on both Friday the 13th during the village evangelism and Sunday, when many visitors come to  help us dedicate the new building.
On March 29th, all our Techiman churches are meeting together in Techiman for a combined service.  After the service, we are moving over to Bamire for a Ground Breaking Service on our new property.  Lord willing, we plan to start the building right after Easter.
On the Passion Week, we have challenged our members to dedicate from 3 – 6 p.m. each day for soul winning and handing out Easter invitations.  Last year, we had 40 faithful members out each day.  This year, we are asking for 100 commitments from our church family to dedicate this time to the Lord in thanks for what He did at Calvary for us.  We have also asked each member to invite lost friends over to a nice Easter lunch in their homes, instead of Easter lunch at the church.  Please pray for a great day.  Dr. Bill Patterson will be flying over to be our Easter preacher.  Thank you for sending us to represent you with the gospel in Ghana!
For Eternity,
Pastor Stephen J. Volante