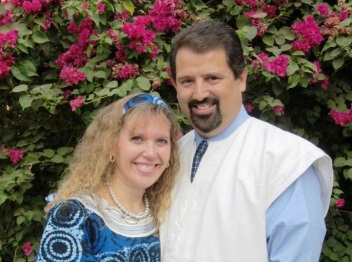 Steve Volante: May 2015 Prayer Letter
Dear Friends,
In the days leading up to our big Easter program, Gilbert Ayaric, the pastor of Calvary Baptist Church in Krobo, lost his younger brother to a fatal sickness.  The burial was scheduled for the Tuesday after Easter.  Due to a festival occurring at that time, the chief would not allow a proper funeral service.  We held a quiet church funeral early in the morning.  By 7:00 AM, the church was packed with family, friends, and co-workers, many of which were Muslims.  After preaching a simple gospel message geared toward Muslims, we saw 16 people come to know Christ as Savior.  Dr. Bill Patterson was there and had the joy of leading two of the 16 to Christ.
On my way home from seeing Dr. Bill off to visit Pastor John Kennedy and Pastor Miguel Triano in Apam & Cape Coast, I was in an amazing accident.  In the night in the pouring rain at speeds in excess of 60 mph, we hit side to side with an oncoming car while trying to overtake a large tractor-trailer truck.  The hit on the driver's side sent us hydroplaning into the front of the truck we were trying to pass.  It hit us with a powerful blow that nailed the passenger side back door and rear tire.  It felt like we were going to be crushed, but then we popped out and slid down the road like a ball in a pinball machine.  I didn't hear or see the angels, but I believe all the same they had a hand in our safety!
When I returned to Ghana after being gone for a time, I really needed to go and visit all the outreach ministries and see how our missionaries are doing.  These dear men are my Timothys and friends.  This month, we (Pastor Samuel, Pastor Silas, two Bible school students, and I) had the joy of going to visit Peter Addai, the pastor of Calvary Baptist Church in Bolgatanga.  Saturday morning we held special outreach meetings in Gurogo, a daughter church of the Bolga church.  In the afternoon, we baptized four new members in a nearby lake and spent the afternoon on visitation in Bolgatanga seeing seven more come to trust in Christ as Savior.  On Sunday morning during our devotions before the church service, an uncle of Pastor Silas came to the hotel to greet us.  We had the joy of leading him to Christ as well.  This trip was such a great joy to all of us.
From the day I landed in Ghana, Pastor Miguel Triano, the pastor of Living Word Baptist Church in Cape Coast, was texting me luring me to come over to visit.  He knows I like good coffee, barbecue, Grouper, Shrimp, and mushroom soup.  When I could no longer withstand, I rushed to Cape to visit him and check on the construction of their new church building.  As always, we had a great time of sweet fellowship, soul winning, preaching, and laughter.  Pastor Miguel has moved into a new rental house very close to the new church building.  I was so happy to preach my first message in the partially completed children's section of the new church building.  The adult side is still under construction.
Praise the Lord with us that although Nora Triano had a tubal pregnancy that ruptured slightly, Miguel was able to get her to a clinic and have surgery before it became life threatening.  For a few days, it was touch and go.  We were on our knees begging God to spare her life.  She is recovering.  As I write this letter, she is at the doctors for a follow-up visit due to some bleeding from the incision.  Thank you so much for caring!
For Eternity,
Pastor Stephen J. Volante
PS:  My parents have made it safely back to Ghana!