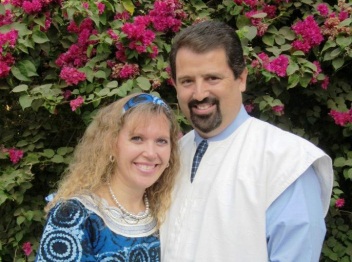 Steve Volante: February 2017 Prayer Letter
Dear Praying Friends,
Have you heard the saying, "Time heals all wounds"? I'm not sure I believe that, but what I do believe is what we do with our "time" can heal the wounds. We must "believe" that all things work together for good to them that LOVE God.  Facing some great personal challages in the ministry in the past few months, we have been sent heart first into the Word of God.  We are determined to wisely use our "time" to prove our love for our God and our "faith" in His sure promises.  Without giving all the painful details, we praise the Lord the storm is almost past. We simply ask for your prayers for strength and wisdom.
This year, 2017, started off with a wonderful New Year's Day worship service with a packed, but sleepy, group of worshippers because we stayed up together to bring in the New Year together in prayer the night before. Our youth put on a powerful drama called, "A Letter from Hell" to encourage all of us to be a better witness in 2017 than we were the year before.
On Friday, January 6th, I flew from Ghana to New York and then had a special day of reunion with some of my family in New England on Saturday during a snow storm.  On January 8th I had the joy of preaching at Calvary Baptist in Easthamton, MA, with my dear friend Pastor James Peterson in the morning and Mount View Baptist Church in Holyoke in the evening.  On Monday, I flew down to Dallas to help get ready for the Mount Abairm Baptist Mission Annual Conference for World Evangelism.  The Lord blessed, and we had a wonderful missions conference from January 16-19 hosted at the Worth Baptist Church in Fort Worth, TX, with Pastor Tyler Gillit. After the conference in Dallas, I drove to Chickasha, OK, with Pastor Kim Hayes to preach at the Workers' Banquet at Bible Baptist Church and preach on Sunday before flying to Atlanta on Monday to say goodbye to my older children and grandchildren before returning to Africa on January 27, 2017.
When I arrived in the USA for the conference, my dear friend and co-worker, Pastor Miguel Triano, contacted me to alert me that his son Joshua was in a life and death struggle with malaria. Currently, they are back in Mexico on furlough and were finding it impossible to get that right medicines to defeat the malaria attack.  We tried out best to overnight medicine from Ghana to Mexico, but no one would allow us to send the medicine.  We fell on our knees and asked the Lord to use the oral suspension medicines they had brought home with them to save Joshua's life.  After days of distress and fear of death, God revived Joshua back to health. We just praise the Lord for His mercy towards us.  Pastor Miguel and Nora were to fly back to Ghana on Janary 26 but had to delay their return to Fabruary 8th.  They face a very big medical bill of $4,000.  If the Lord touches your heart to help, please send any size gift of encouragement to Mount Abarim marked Miguel Triano medical need.
On January 28, I arrived safely back in Ghana and was able to preach on the 29th.  Thanks you for your faithful love and support of the ministry here in Ghana.  May God richly bless you.
For Eternity!
Pastor & Mrs. Stephen J. Volante