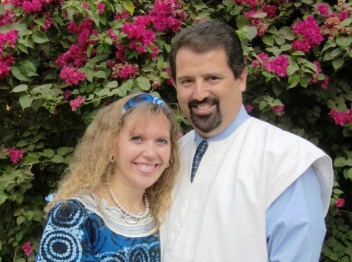 Steve Volante: May 2017 Prayer Letter
Dear Praying Friends,
Each year, Easter week is the highlight of our year!  Year after year we have seen the Lord do marvelous things here in Ghana as we set aside the passion week to proclaim the victory of the resurrection of Jesus Christ.  This year we had 70-80 people from the Techiman church out each night from 3PM to 6PM, to both witness and invite people to: the Good Friday Service, the Saturday Children's Victory Games, and the Sunday Easter services.  The results of this week of evangelism were very encouraging!
The Techiman Area 2017 Easter Attendance Report
Church Location
Attendance
Saved
Baptisms
People in
Pre-Easter
Total
on Easter
Baptism Class
Evangelism
1.       Techiman + 5 daughters Churches
1,320
52
12
14
322
374
(Bamire/ Nsuta / New Krobo/ Jama/Atebubu)
2.       Ahansua
 230
35
5
 9
 14
 49
3.       Toubodom
390
 33
0
12
12
 45
4.       Adutwie (met with Toubodom)
5.       Krobo
 190
17
       0
6
21
 38
6.       Bonkwai
330
22
0
10
10
 32
7.       Forikrom
 184
 3
0
4
 14
 19
8.       Boankron (met with Forikrom)
9.       New Krobo (met with Techiman)
10.   Nsuta (met with Techiman)
 6
11.    Jama (met with Techiman)
12.    Atebubu (met with Techiman)
5
13.   Bamire (met with Techiman)
Total
2,644
162
28
55
393
557
UPDATE ON NEW MINSTRY BURDEN FOR PASTOR SAMUEL APPIAH FOR ATEBUBU
By God's grace, Pastor Samuel has found a house and has paid the rent in full and will soon relocate to Atebubu. He is renting his house in Techiman to cover the cost of renting the house in Atebubu. But we still really need your help to raise a least $3,000 to get the building in Atebubu secure for worship.  Since our last letter we have borrowed $1,000 in order to continue building and get electricity to the building so they can move from the small, noisy school class room we are using to our quiet, spacious church property. Please let me know if God touches your heart to help.
For the souls of men!
Pastor & Mrs. Stephen J. Volante
This week we will say a sad "goodbye" to my Dad and Mom as they fly back to the U.S. on Monday, May 22, 2017.