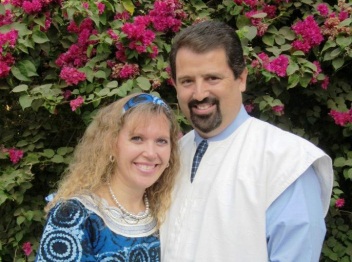 Steve Volante: July 2017 Prayer Letter
Dear Praying Friends,
The summer months zoom by like a speeding car at the Indy 500! We hold on and try to enjoy each day as much as we can, but time will not stand still.  We had the joy of hosting the Missions Team from the Campus Church of PCC headed by *Dr. & Mrs Reese, at the end of May. Each year the PCC team comes well prepared to help our Christian school host a special week of evangelism camp ministry.  We take two classes of students each day (around 110-120 students) through a special program of fun activities, Bible stories, singing, crafts, and Bible memory.  We divide the group into color teams, and the competition to win is intense.  Each year we see many of our children trust Christ as Savior.  During their two-week visit, they also taught in twenty-four different Bible Clubs and two youth meetings, spoke in seven different prayer meeting services, taught ten Sunday lessons, conducted ten Children's Church services, participated in an open air meeting, and helped host the Victory Games in Atebubu, as well as going on visitation and soulwinning.  By the time they flew out of Accra, we had seen 230 people confess Jesus Christ as Savior.  We thank God for your faithfulness!
Our second missions team arrived on June 20th from Bible Baptist Church in Chickasha, OK, and Guide Baptist Church in Hilliard, OH, for another powerful two weeks of ministry.  They did many of the same things as the PCC team, but they helped us with two very special programs as well.  First, they helped us celebrate our 21st Anniversary as a church. What a wonderful day we had with over 900 in attendance and sixteen people coming to trust Jesus as Savior!  Second, God opened a great door for us in Jama, a village in the northern region of Ghana.  Pastor Peter Kontor is our missionary there.  Last year, Pastor Kim and I stopped in to visit the Chief of Jama, and he invited Pastor Kim back this year to preach to all his sub-chiefs and queen mothers.  On Monday June 26, we arrived at his home in Jama.  He had invited over 100 dignataries to hear the gospel.  Pastor Ben gave a testimony, Pastor Kim preached, I gave the invitation, and 45 of his leaders and family members prayed to receive Christ as their Savior.  The town children showed up out of sheer curiosity, and we saw 30 of these children pray after the service was over.
For the souls of men!
Pastor & Mrs. Stephen J. Volante
Truly, it is our honor and privilege to represent you here in Ghana – Thank you for your loving support!