Jesus said – "The harvest truly is plentiful, but the laborers are few. Therefore pray the Lord of the harvest to send out laborers into His harvest." Matthew 9:37b-38
Have you ever noticed that the very things Jesus commands us to pray about become the focus of our lives? I have! That's why I am asking you to pray about the David Livingston Intern Scholarship Fund. We as a mission's family want to actively assist Bible school students who are either in missions or pastoral majors to participate in a 10 week summer internship program with us. Instead of these young people getting a summer job at the mall or cutting grass, we want them to experience missions and ministry first hand on the field.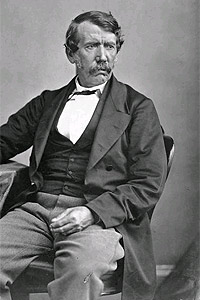 I believe we all know that many missionaries fail on their first term because they just are not ready and lack a good ministry plan. This year we are planning to take applications for two summer interns. These summer interns would, like a missionary, have to raise their own airfare to the country of service and $2,500 to cover their expenses on the field for the ten weeks. These interns will have to sign a contract of engagement so they understand this is a work scholarship and not a vacation overseas.
Upon successfully completing their ten weeks of missionary service, we will give each intern a $2,500 scholarship toward their next year's school bill (paid directly from Mount Abarim to their college: $1,250 for the first semester and $1,250 for the second semester).
David Livingstone once said "If you have men who will only come if they know there is a good road, I don't want them. I want men who will come if there is no road at all." We like David Livingstone only want to give this intern to those who truly are ready to work hard to further the work of the Lord and understand the greatness of the harvest that is ready to be worked. David Livingstone was a great Scottish missionary to Africa where he served until his wonderful loving Savior called him home.  
We believe God can mightily use the David Livingston Intern Scholarship Fund to get these "laborers" we were told to pray for into His harvest. If you are burdened to help and want to give, please contact me or Brother Stephen Volante, our African Field Director. Please mark these gifts, International Fund – David Livingstone Intern Scholarship.