"So shall my word be that goeth forth out of my mouth: it shall not return unto me void, but it shall accomplish that which I please, and it shall prosper in the thing whereto I sent it" (Isaiah 55:11).
According to the latest census, in thirty years the number of "Evangelicals" in Brazil went from 6.6% of the population to 22.2%. We cannot assume that all of these are true born-again believers, but we are seeing openness toward the Gospel as never seen before in Brazil's history. This is prime time to sow the Precious Seed.
As you well know, the Lord has granted our family two ministries: (1) Team Church Planting and (2) Bible Ministry (revision, publication and
distribution). Our goal in 2012 was to make plans for the next church to be started and to increase our Bible distribution.
Team Church Planting: we have prayed and labored toward the start of a church in Guacuri, a densely populated neighborhood in the southern part of São Paulo. This year, a very important step was taken—both New Life Baptist and Temple Baptist voted to donate this land to the Baptist
Church of the Bible (a deaf ministry church),which has met for years at Temple Baptist's facilities. Baptist Church of the Bible will now seek to reach people in all walks of life—a deaf ministry, reaching out to the hearing. Please pray as we seek to start this work in 2013 in a team effort.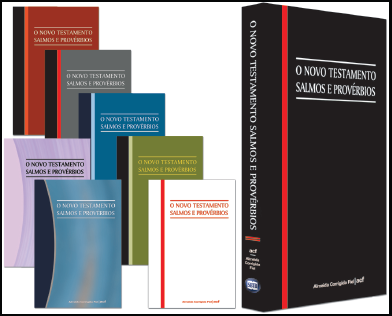 Bible Ministry: We are experiencing the Lord's blessings in a very special way in Sociedade Biblica Trinitariana do Brazil (SBTB). In 2012, over 160,000 Bibles were distributed throughout Brazil and the world by SBTB alone. Through special partnerships, this number reaches seven million copies. We also printed 125,000 New Testaments / Psalms and Proverbs with special covers geared toward those who daily endanger their lives for our protection, namely: the armed forces and the medical professionals. Please pray as we prepare to print 400,000 Bibles in 2013 with larger type, geared toward those who suffer from poor eyesight. Thank you for praying for our family and for our ministries.
Your servants in Brazil,