Stetson and Sandy Planck
Church Planter in Italy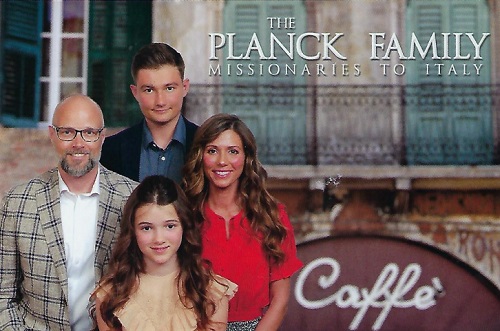 Stetson received Christ at a young age but having been raised in a denomination that taught the assurance of salvation was impossible, he remained without a solid foundation for Christian growth until he began attending a Baptist church pastored by his uncle in southern Ohio. Stetson has two engineering degrees and worked as an engineer for over 10 years, during which time he felt the call of God to full-time ministry. After having attended a Bible institute and served in local churches in the States, he and his family have surrendered their lives to reach Italian souls for Christ. They have ministered in Italy for nearly a decade and desire to plant Baptist churches throughout the Veneto region of Italy, starting in the city of Verona.
Sandy wasn't raised in a Christian home but was rather brought up under the false teaching of the Church of Christ that water baptism is necessary for salvation. Through God's providence, she visited a Baptist church and heard the gospel for the first time in her life and received Jesus Christ as Saviour. Although once strongly career minded she left college one semester shy of her master's in clinical psychology, for what she believes is her primary call, to be a wife and mother.
Stetson loves spending time with his amazing wife and two wonderful kids, Isaiah and Pearl, and likes most things Italian – especially Rome, Verona, Vespas and cappuccino. Sandy is adventurous, loves the arts and fashion, thinks Venice is the most beautiful city in the most amazing country in the world, and invests all of her being into her family.
Recent Prayer Letter
---