Bethesda Children's Homes: January 2014 Prayer Letter
2014 Budget Needs and Prayer Requests for Tlapa Homes
This yearly offering is Abarim's only major fund-raising event for the Tlapa homes.  The recession is still effecting our income.  Dollar exchange rates have dropped.  But, we had a wonderful year.  We made the decision to begin the Christian school and its doors were opened in September.  Local authorities are already praising the academic progress of our students.  We now have 140 children and a full time staff of fifteen.  The needs are great and the children are powerless to meet them.
We have been blessed with a Godly, well trained and efficient staff.  Never in the history of the homes have we had such a talented team.  We have been in building programs for the last sixteen years and the new school has stretched our budget and is helping strengthen our faith.
We prayerfully present the following needs for your prayers and should the Lord lead you to sacrifice toward them I am certain He will add His blessing.
Yours for Christ's little ones,
Mike Patterson
Childrens Home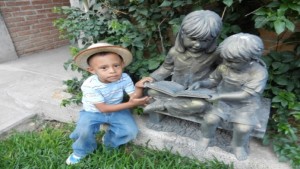 Monthly Support:   At present we have 140 children.  Basic support is $100 per month for each child.  At present we have ten unsupported children.  Some of our supporters send partial support for a child and it is deeply appreciated.  .  Need:  Support at $100 per month for 10 children and about $2000 per month in additional expense for the Christian day school...
Staff Salaries:  All of our staff has graduated Bible Colleges.  Half have university degrees as well and all are sacrificing to serve.  We have added an R.N. who works full time with the medical clinic and a recent university physical education director.  A new couple is now leading the girl's homes.  Combined monthly salaries for the staff total a little over $7000 per month.  We are depending of special offerings to fund about half of this expense.  In addition, we opened the stores of food for the children to help with the flood victims.
Special meals:   Children's day, Easter, Graduation    $1,000 each
Christmas:  We provide a special meal, piñatas, and gifts.   By Mexican law a double salary is paid for the entire staff.  The cost for all of this was about $6,000 this year.
Building projects:  We have completed the office and teaching-conference room this year.  We only lack about $3,000 to complete the furnishing.  We praise God for graciously supplying for the building.  We were able to re-dig the girl's home well and pure water is now available for both homes.
August Reunion:  This year's reunion cost about $4,000 for the three-day event.  About 700 attended the event and many life changing decisions were made.
Staff Retreat:  For four years we have hosted a three-day retreat in Acapulco for our faithful staff in Tlapa as well as the Cuernavaca mission office.  It is a time of teaching and a time of rest.  The cost of the meeting this year was about $5,500 for hotels, meals, travel, and etc.  We spend hours in the morning and evening in staff training.  This year, our son Bill hosted the meeting while I recuperated from a heart attack. This may be the most important expense we have each year.
Uniforms:  We need about $50 per child each year for uniforms.
Curriculum materials for the Christian school present us with a yearly need of about $12,000.

Special Prayer Request:

As you know, Mexico has become a dangerous place to live, work, and minister.  The drug lords have little regard for human life.  Our church family in Cuernavaca has been the victim of several armed assaults and kidnappings.  Cars and contents have been stolen.  Yet, the ministries all over Mexico seem to be flourishing in this time of testing.  We do covet your prayers.

We live in perilous times.  I have received warnings and threats of kidnapping.  Some would like nothing better than to snuff out our lives and ministry.  I am convinced that we are immortal until the Lord calls us home.  Becky and I will continue our ministry in Mexico as long as health and strength allows.

I do ask for your prayers as we lead the homes and continue with conferences all over Mexico.  Though I am giving up the title of President for the mission, we have no plans to retire or retreat.  We will be back in Tlapa as soon after the January conference as the Lord allows.

As I write, the children, our staff of the homes, and we have been protected.  Pray with me that the Lord will continue with His hand of protection over these very special children.  Recent floods and mudslides destroyed many of the mountain villages of our children.  Churches and believers' homes were destroyed in the torrent.  I covet your prayer for them.

Thank you for your prayers,
Mike Patterson, President-General Director