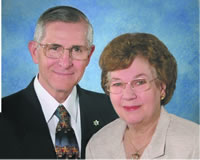 Tom Gilmer: March 2014 Prayer Letter
Dear Friends of Zion:
Thank you for your continued prayers and offerings for our varied ministries.
GUACURI CHURCH
Please check out the latest news concerning the Guacuri church building progress in Harold Ralph and Lílian's prayer letter. If you do not receive their letter, please request it from the Mt. Abarim office, calling or writing to them.
PROFESSOR DAVID CORREA, ACADEMY FOR THE STUDY OF BIBLE PROPHETS
A bacteria attacked David internally, due to his extremely low immune system. By the time doctors determined what they were fighting and prescribed the appropriate antibiotic injection, he was, according to them, within two hours of certain death. Then thrombosis set in to his right arm when they were inserting a catheter through which he would receive injections during and following the transplant. Now that the thrombosis is being treated, the timing of the bone marrow transplant—and the possibility of doing it—are in question. Meanwhile, a meeting is scheduled for March 18 with all the students of the Academy for the Study of Bible Prophets. A decision will be made with them as to whether to use a substitute teacher and course this semester or all year, or to take a recess while David recovers.
ENGLISH LANGUAGE SCHOOL FOR PROFESSOR FRANCISCO ASSIS AND WIFE CAMILA
Even if you or your church cannot help locate an English language school or housing for this couple, can you suggest someone who might? They need to be in the U.S.A. by May of this year for six months.
SPONSORS FOR PASTORS AND WIVES TO ATTEND THE CONFERENCE IN JULY
We are still praying we will be able to help some of the pastors and their wives from new, small churches to attend the conference on CHURCH GROWTH BY SOUL WINNING AND DISCIPLESHIP with Dr. David Teis in Rondônia, Brazil, in the month of July.
WAREHOUSE FOR BIBLES
Even though we have no answer to the request for prayer for a large warehouse for Bibles for Bearing Precious Seed and Trinitarian Bible Society, we will not keep this request on the list but will mention it again as developments occur in this area.
May the Lord richly bless you.
Yours for the Messiah,
Tom and Linda Gilmer
PRAISE:
1. Professions of faith: 3.
2. Dozens working faithfully toward the success of projects and needs mentioned in Prayer Requests.
3. See progress report on Guacuri in Harold Ralph's prayer letter.
4. Professor David Correa now hospitalized.
5. Leocy recuperating from surgery.
6. Our grandson, Daniel, responding well to therapy.
PRAYER:
1. Salvation of Jews and Gentiles.
2. Bible study helps preparation.
3. Churches: New and expansion of existing ones.
4. "Church Growth by Soul Winning and Discipleship" Conference with Dr. David Teis in Brazil in July 2014. Need 50 sponsors for needy pastors and wives to attend, $240 each couple.
5. Prof. David Correa, bone marrow transplant.
6. Prof. Francisco Assis and wife – English school and housing, June-December 2014.