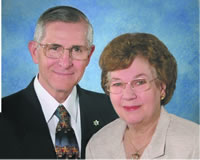 Tom and Linda Gilmer: May 2014 Prayer Letter
Dear Friends of Zion:
Your prayers and offerings—for which we are grateful!—produced more visible results than usual this past month.
Praise the Lord for His blessings on our work to get unsaved Jews to attend three different Hebrew Christian Passover celebrations. Missionary Danny Woods led two of the meetings as a Jewish Christian minister, and Pastor Alexandre led the meeting at our first church as a Gentile Christian minister, explaining the Messianic significance of all the traditional symbols. Ten Jews came to our church, including an unsaved Jewish couple that also went to one of Danny Woods' meetings, which shows they are searching.
TIME RUNNING OUT—URGENT RESPONSE NEEDED NOW! Professor Francisco Assis and his wife Camila are strong local church, soul-winning, fundamental Baptists. They long to be actively involved in a local church where they can participate and interact with the congregation while they are learning English. They need to register NOW in a school that can provide an I-20 Form for foreign student immigrants. They need to study English for six months in preparation for going to Cambridge University in England to fulfill requirements for Professor Assis' doctorate in Greek. There is a possibility in New York, but their limited finances will not cover the cost of living there. They do have funds for modest tuition and housing. If you are interested in helping reach unreached people with the Word of God with sound, reliable translations, maybe your church would like to give six monthly offerings to help this worthy young couple study in New York. God has gifted this man with linguistic talents. He is disciplined to prepare himself with thorough language study so that he might train others. Such people are rare. Assis and Camila live frugally. She is a lawyer but is dedicating full time to Bible institute studies as he works on his doctorate in Greek at the University of São Paulo, where he teaches Greek. He also teaches Greek in the main Bible institute with which we cooperate, as well as a Regular Baptist Seminary. They are not looking for a free lunch but for an opportunity to serve the Lord while they study English.
Professor David Correa went to be with the Lord on April 23, much to our sorrow. About three days after the bone marrow transplant began producing new red blood cells, bacteria attacked him. ICU Doctors could not save him. Several students, desiring to carry forward the Academy for the Study of Bible Prophets, are meeting weekly to prepare a syllabus from David's handwritten notes in order to complete the Gospel of John next semester (August-November). They will take turns giving the classes. The semester will begin with the launching of the last book David prepared to be printed with the help of one of his students, a Baptist pastor. The same student/pastor will prepare the notes on John in book form to be printed. The Bible Broadcasting Network Online Bible Institute in Portuguese is preparing yet another of his courses to be offered online. David told me on the phone with great rejoicing several weeks before his home going that the Lord had given him the closure for his classes on the book of John: "Jesus' question to Peter ('If I will that he tarry till I come, what is that to thee?') is to cause us to question ourselves, What does Jesus want me to do? And not worry about what He wants or does not want someone else to do."
Thank you again. Remember: ALL can PRAY, and PRAYER is the most important contribution to our work. God will use some to GIVE and some to HELP US LOCATE A CHURCH, SCHOOL AND HOUSING for Professor Francisco Assis and his wife, Camila. May the Lord richly bless you.
Yours for the Messiah,
Tom and Linda Gilmer
PRAISE:
1. Professions of faith: 39.
2. More slow progress on Guacuri church project. See Harold Ralph and Lilian's May prayer letter.
3. Unsaved Jews attended Hebrew Christian Passover.
4. Two scholarships provided for pastors and wives to attend the conference in July.
5. Professor David Correa finished preparation of lessons for last chapter of John before his home going.
PRAYER:
1. Salvation of Jews and Gentiles.
2. Bible study helps preparation.
3. New churches; growth of existing ones.
4. "Church Growth by Soul Winning and Discipleship" Conference with Dr. David Teis in Brazil in July 2014. Forty-eight sponsors for needy pastors and wives: $240 each couple.
5. URGENT: Professor Francisco Assis and wife—English school and housing for six months as of August for the fall semester.