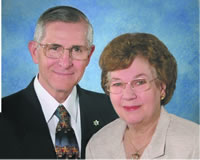 Tom Gilmer: May 2015 Prayer Letter
Dear Friends of Zion:
Your continued support with prayers and offerings keeps our ministries moving forward with God's help!
Several weeks ago, Sr. Walter, a poor, uncultured man, shared in a Wednesday night prayer meeting that he had won a medical doctor to Christ. It seemed unreal, because his way of witnessing is not at all polished but loud, bombastic and dogmatic. But two weeks later, that doctor and her husband, a computer programmer, came to the service. When we divided into small prayer groups, I had the privilege of praying with the husband. Praise God, his heart was prepared to call on the Lord for salvation! Thank God for those who are willing to do what they can to tell others about Jesus!
A Jewish young adult, who made a profession of faith several years ago with friends of ours, turned away from the Lord and seemed impossible to be drawn back. An accident that could have been fatal has left him needing help to get to the doctor. The Lord is using this to put us together. Please pray for his physical recuperation and spiritual restoration.
By the time you receive this letter, our granddaughter, Sarah Hammond, will be in St. Croix on a missions trip, doing a required internship for her major in Studio Art. Praise the Lord for providing the opportunity and resources!
You may remember that a few years ago you prayed and some gave to help remodel the Paraisópolis church in São Paulo's largest "favela" (slum) to make room for about 30 more people. Because of its strategic location on the main street of the favela, a business wanted the property and swapped a warehouse with the church, almost three times the size of the original church building. All the members remain faithful in the new location on the outer edge of the favela, and more people are accepting the Lord and joining the church. The new facility offers room for growth and even housing for out of town students who will be invited to work with the church while studying for the ministry. God is blessing!
Yours for the Messiah,
Tom and Linda Gilmer
PRAISE:
Professions of faith: 14.
Horácio, Hebrew Christian, new cancer treatment.
Two possible auditoriums located for Israel Appreciation Night in October.
Carlos's ordination – see Harold's letter.
Sarah Hammond, granddaughter, summer missions internship in Studio Art on St. Croix Island.
PRAYER:
Salvation of Jews and Gentiles.
Bible study helps.
New churches, growth of existing ones.
APPs, CD, MP3, and AUDIO BIBLE: problems, opportunities, slow progress.
Possible Israel Appreciation Night in October.
Jewish young man, physical recuperation from accident and spiritual restoration.