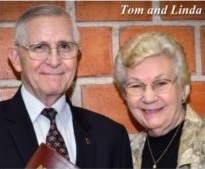 Tom Gilmer: March-April 2018 Prayer Letter
Dear Friends of Zion:
Linda and I thank you for your prayers and offerings even during these weeks of no prayer letter.
On the first weekend in March, the congregation in Guacuri celebrated its official opening with a weekend of tent services. A large group of members from New Life Baptist Church in Jardim Ingá, the "mother" church, attended the first service on Saturday night. On Sunday night, I was having a great time handing out invitations on the sidewalk and welcoming people to come in. Linda warned me I could catch the flu from being outside in the night air, but I said, "I'm having so much fun, it's worth it, even if I get pneumonia!" Well, I did! I spent a week in the hospital and am still trying to overcome the resulting weakness. I remain under the watch care of a doctor who hopes to locate the exact bacteria, which has not been eradicated as yet. Another test to try to identify it is scheduled near the end of this month. Great care must be taken to avoid a relapse.
But praise the Lord for the salvation of one soul in the hospital–plus some good contacts we made for the new church in Guacuri–and São Miguel Paulista, as well! On that same Sunday in March, the congregation in São Miguel Paulista had its official opening under the care of Templo Batista de Indianópolis (TBI). Members of TBI attended the afternoon meeting. We couldn't make it to both Guacuri and São Miguel, so we went to Guacuri. Churches we helped to start are now starting other churches! To God be the glory!
Much of my work these days is motivating pastors and helping them work through obstacles to be able to go forward with a needy project. A dream of many years is becoming a reality at our first church, Templo Batista de Indianópolis. As of this month, we are now able to offer a Master of Ministry degree to pastors who have a basic college degree.
Please pray for a project I am working on as the editorial consultant on a book about the history of the Bible in Portuguese, written by a Brazilian author who works as a translator for the Canadian government and is a member of the elite Academia de Letras, a literary organization in Portugal. All data must be factual, reliable, academic, and properly footnoted. To make its greatest impact, it must be attractive to a secular publisher. I need wisdom, expertise and speed to bring this to completion for publication.
Our daughter Ruth's family still needs prayer. While illnesses have been very difficult, especially for Jonathan, the spiritual battles have been greater. Please pray for victory. If someone would like to encourage Ruth or the family, you may contact them through e-mail, letter, or by phone. E-mail: hammondclan@yahoo.com.. Address: 104 Hunt Road, Sturgis, MS 39769. Telephones: (662)418-2351 or (662)418-3487. Thank you, and God bless you.
Yours for the Messiah,
Tom and Linda Gilmer
PRAISE:
Professions of faith: 22.
Piano purchased for Guacuri congregation.
The two new congregations are now official: Igreja Batista Nova Vida em Vila Guacuri under the care of the church in Jardim Ingá, and Congregação Batista Bíblica em Vila Jacui, São Miguel Paulista, under the care of Templo Batista de Indianópolis.
Master of Ministry Degree now available for Brazilian pastors.
PRAYER:
Salvation of Jews and Gentiles.
Ongoing projects (Bible study helps, media outlets, and warehouse for Bibles).
Offerings for new churches: remodeling the Guacuri congregation and $300 monthly for the São Miguel Paulista congregation.
Healing for grandchildren Jonathan and Charity.
Editorial work on history of Portuguese Bible.
Tom's health: recuperation from pneumonia.