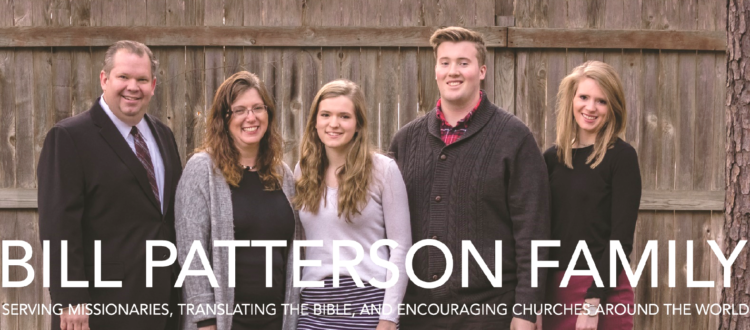 Bill Patterson: May 2019 Prayer Letter
Family News: In just two days, our youngest daughter, Tricia, will graduate from high school! My heart overflows with joy and thankfulness for all that Marcy has done in teaching our children. Due to my heavy schedule in ministry and Bible translation, my part in their studies has been extremely small. We are also so thankful to the Lord for the good news resulting from testing that Marcy recently underwent in relation to the cancer she had twelve years ago. Due to finances, we had waited beyond the ten-year mark that is generally recommended for the testing. Earlier today, I held in my hands letters from various doctors stating that Marcy's health is great, and that there are no signs of cancer! We are so thankful!
Bible Translation News: The trip to Mongolia was greatly blessed. Our translation team is not only going forward in the Old Testament, they surprised me by having begun a revision of the New Testament. They had already finished their work on the Gospel of John. As a team, we have just finished the final checking of the book of Ruth and have almost completed our work on the names in the Old Testament. Initial translation work has been completed for Genesis to 1 Samuel, and the revision process is underway at various stages for each of those books. In addition, Psalms has been translated and is undergoing its second revision. Please keep our team in your prayers. We are excited to see all that God will do with our translation!
Mount Abarim News: The Lord continues to add to our missionary family! Later today, I will send an acceptance letter to a dear family serving in Chile. Just a few days ago, we received the paperwork for a young missionary on his way to Spain. We rejoice that God is using Mount Abarim to assist missionaries around the world. Please keep Missionary Steve Volante in your prayers as he transitions to the pastorate of Bible Baptist Church in Chickasha, Oklahoma. Our desire is that God would use him greatly in this new ministry and continue to bless the many ministries in Techiman and Ghana that have been under his leadership.
Final Update: The Lord has provided for Marcy and me to take an anniversary trip as she had desired! For every one who prayed and gave, we are so grateful. Thank you for being our partners in the Lord's work!
Thank you for being our partners in reaching lost souls for the Savior!