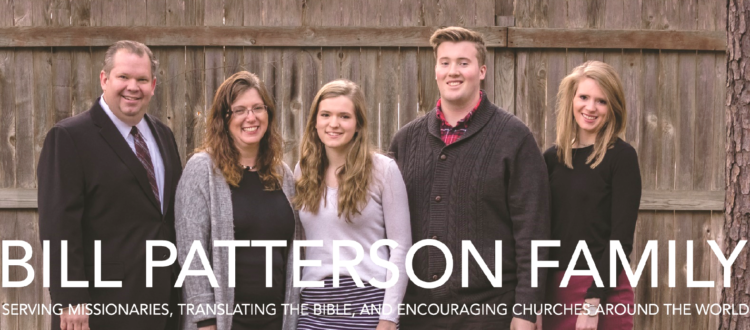 Bill Patterson: July 2019 Prayer Letter
MIT News: One of the greatest joys in life is to train young people for ministry. Every year for the past four years, we have taken groups of teenagers on what we call Missionary-in-Training. The first week is spent at a camp, where all free time is dedicated to teaching strategies for reaching the lost. During the second week, we partner with various churches and ministries in New York City as the teens put into practice what they have learned. The ten teens and eight adults on this last trip were greatly blessed! One young man, previously called to serve the Lord, is now planning to go to Mexico to reach indigenous tribes.
Mount Abarim News: The Lord has added yet again to our missionary family! By God's grace, two more missionaries are in the process of being accepted into Mount Abarim. What a joy to serve these dear servants of the Lord. Please keep our home office in your prayers, as we may lose a staff member later this summer, due to her husband's job taking him away from Texas. She will be greatly missed. Please keep the following families in your prayers: Reyes family (civil unrest in Honduras), Zavala family (health issues), Volante family (transition to a pastorate in the US), and the Martinez, Neri and Rodriguez families (finishing up deputation).
Bible Translation News: The Mongolian translation team continues forward in the Old Testament translation. New grammar rules issued by the Mongolian government are requiring us to also undertake a revision of the New Testament. We know that God has a purpose in all He allows. Your prayers for our team are truly appreciated. The team members are Pastor Jason Ritchie, Oyumaa, Tungaa, Enkhtuul, and Eebee.
Family and Ministry Update: On July 3, Marcy and I will depart for a 25th wedding anniversary trip. The Lord has provided for us to make a trip for which Marcy has dreamed for years, and I get to tag along! While in Scandinavia, we are planning to visit a church in Copenhagen and gain insights for ministry there. Please pray for us! Just after our return, I will travel to Mexico for our annual Staff Retreat for the Bethesda Homes and Mexico Mount Abarim staff. My desire is to encourage and motivate the wonderful staff the Lord has given us.
Thank you for being our partners in reaching lost souls for the Savior!