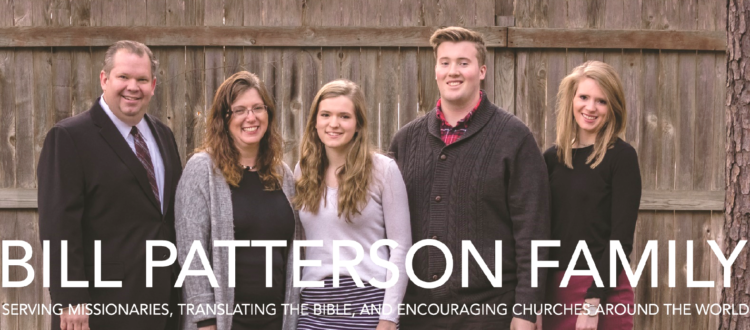 Bill and Marcy Patterson: May 2020 Prayer Letter
Bill and Marcy Patterson – MABMI President, Church Planter, Bible Translator
"I was glad when they said unto me, let us go into the house of the Lord." (Psa. 122:1) Last Sunday was an unforgettable experience! After eight consecutive weeks of attending church services via livestream, our family was able to join other families and our pastor inside the sanctuary for a glorious service in praise to our Lord. Even before the first song, tears of joy flowed down the faces of many of us who were there.
Mount Abarim News: Reports continue to pour in from around the world of all the ways that God is blessing our missionaries during the COVID-19 pandemic. Souls are being saved, thousands have heard the Gospel, and God's servants have used extraordinary means to reach those in need. We have accepted two more families into Mount Abarim. One family is planting a church in the Dominican Republic, and the other will be planting a church in a city in Sonora, Mexico, in an area with no Gospel-preaching church.
Bible Translation News: For the last two months, we have continued to correspond with our Mongolian translation team. Although the process has been slow, we rejoice that things may soon be opening up in that land. In addition, I have been in touch with other translation teams on four continents. Please continue to pray for more laborers. Two days ago, I preached online and more than one thousand viewed the message in Spanish. My plea was for more Bible translators. Please pray with me that many would heed that call.
Family Update: This has been an amazing time to be together as a family. In addition to reading dozens of books, learning to play a new musical instrument, and delivering groceries to those in need, we have also taught online Bible classes and Greek classes, preached in an online missions conference, and prepared for the annual Missionary-in-Training program. We are currently planning to host a virtual VBS for children in another month. Our family has sent special offerings those who were used of God to provide food for the hungry, materials to put a roof on a building, medical treatment to one who was at the point of death, assistance for a stranded missionary, Bibles and materials for those who were requesting them, and so much more.
Thank you for praying for us during these unusual times … we need your prayers!