Harold and Lílian Gilmer : February 2022 Prayer Letter
Harold and Lilian Gilmer – South America Director, Church Planter and Bible Translation in São Paulo, Brazil.
Dear Brethren:
"O taste and see that the LORD is good: blessed is the man that trusteth in him." (Psalm 34:8).

Church Planting – "Let us go to the house of the LORD!"
Our theme this year at our Congregation is Psalm 122.1: "I was glad when they said to me, 'Let us go to the house of the LORD!'" If there is one thing that the pandemic has taught us, it is that it is a privilege to be able to meet together in the house of LORD. Oh may we never take this for granted!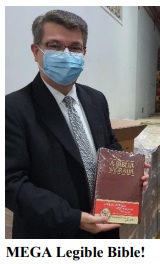 Bible Ministry – Encouraging updates!
For This Bible I prayed! – The MEGA Legible Bible (20-point size font Bible) that we prayed for just arrived from the press. I had one advance copy from the printer, but it ended up going to an 86-year-old Brazilian lady in NYC, who needed a giant print Bible. We are so thankful for these first 5,000 copies that we received. A very special Thank You to Pr. Jeff Redlin and Campus Church for helping answer this prayer.
Exhaustive Concordance Project – On Wednesday of this week, after my time with the Lord, I said in my heart: we need to proceed with this project by faith. That evening we received an email from an old friend stating that they are sending an offering that will cover the needs for the next step of the Exhaustive Concordance! Truly, the Lord Provides!
4.1 million Bible App Users – We just received the report from our biggest Bible App partner stating that, by God´s grace, last year our Portuguese Bible was read by over 4.1 million users. To God be the glory!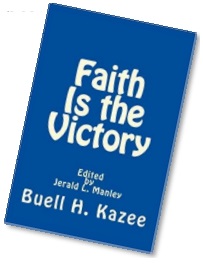 Faith Is the Victory
This past January I had the opportunity of speaking at the Mount Abarim Annual Conference, at the invitation of my cousin, Dr. Bill Patterson. I also had the opportunity of speaking at our home church, Worth Baptist Church. In this sermon, you will be able to see how the Lord worked in our lives through the storm of the pandemic (https://youtu.be/VYLq4SRvqcM). I make mention to the life-changing book Faith Is the Victory, which is available on Amazon or through Dr. Jerald Manley (jeraldlmanley@cox.net), the editor, directly. I highly recommend this book and I am seeking to publish it in Portuguese through our own publishing house.

A Very Special Thank You – We also need to say a very special Thank You to Gateway Baptist Church in Pensacola, FL, for taking us on for support. Thank You to all who support our ministry through

your prayers and gifts of love.
Yours fellow servants in Brazil,
Harold, Lílian, Raphael and Danielle