Tom and Linda Gilmer : June-July 2023 Prayer Letter
Dr. Thomas and Mrs. Linda Gilmer – Church Planter, Bible Translation in São Paulo, Brazil
Dear Friends of Zion:
July was a fruitful month in various areas of our work. Thank you for participating with prayers and offerings!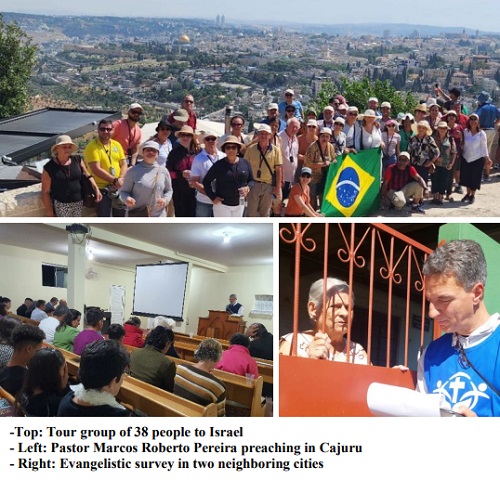 Pastor Alexandre Dutra, president of our Jewish Ministries in Brazil, took a tour group of 38 people to Israel. While there, he visited Jewish friends we helped emigrate to Israel in the past. Another trip is planned for November.

Pastor Marcos Roberto Pereira gave special invitations to friends to whom he had witnessed during his 14 years of pastorate in Cajuru, where we started our second church. He preached as a dying man to dying men, weeping much; 30 people made decisions for salvation. He is assuming the associate pastorate of a church in Serrana, a nearby city.

Pastor Ruy Alexandre led a group of 48 people from the Emanuel Baptist Church, our third church, to do an evangelistic survey in two neighboring cities where two missionaries they support are beginning new churches. They covered 100% of Teresina and 40% of Lupércio. God blessed with 97 decisions for salvation.

Praise God from Whom All Blessings Flow! May He richly bless!

Yours for the Messiah,
Tom and Linda Gilmer
PRAISE:
Professions of faith: 129.
Successful tour group to Israel.
See Harold Ralph's prayer letter for report on Bible Reprinting Fund.
PRAYER:
Salvation decisions: Jews and Gentiles.
Electronic media, preparation and publication of Bibles and study helps.
URGENT NEED: Offerings for Bible Reprinting Fund.
Transition of other pastors of our Brazilian churches.