John Kennedy: March 2013 Prayer Letter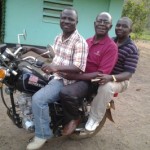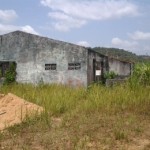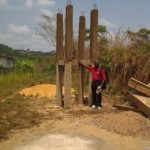 Dear Partners in Ministry,
Indeed, the God we serve is a Wonderful and Prayer-Answering God. Thanks for your prayers and material support. We safely arrived at Robert International Airport as scheduled on Friday Febuary 8. We were met by Pastor Yeason's family and two of his deacons, then Pastor Moses Kpah, in the company of the Zerbes, came to take me to Monrovia. What a wonderful time of fellowship. We thank God for the Sheppards and their ministry in Monrovia. I preached at True Light Baptist Church at Red Light in Monrovia on Sunday, the 10th, where a Missionary Church planter, Pastor Joe Gueh is laboring. Wonderful service! Here was our itinerary:
Monday, February 11th: Pastor's Fellowship at Calvary Baptist Church in Monrovia – warm fellowship, seeing several faces we have missed for about 23 years and also an opportunity as ROGMA INTL. Director for Ghana to meet with colleague ROGMA directors of Sierra Leone and Liberia to discuss some regional challenges in the Informational Communication and Technology (ICT) Age.
Tuesday, February 12th: Pastor's Appreciation Fellowship at Repentance Baptist Church in Congo town (Pastor Moses Kpah's Church). Pastor Zerbe and Jane, his wife, both challenged pastors and their wives and gave gifts to about 100 pastors and wives they had missed for over 30 years for their good dedication throughout the civil war and after. A whole cow was killed for feast, which all of us, over 300 people enjoyed.
Thursday, February 14th: Two brethren, the GBC Acting Pastor, who had a serious burn incident and went to Ghana for plastic surgery, Morris Beodor and Pastor Joe Gueh joined me to Yekepah. We made a stopover in Gbarnga for a Soul Winning Conference, which involved several Independent Baptist Churches. What a joy to see about 1,000 believers gathered for fellowship and soul winning that I used to be a part of, some over 25 years past. We arrived in Yekepah at about 6:00 p.m.
Friday, February 15th: Pastor Gueh and I toured the now bushy city of former Lamco Yekepah. No Taxis, except on motor cycles. We went to the homes of the few old members. *The Acting Pastor, Morris Williams had organized a film show on the "The End Times." I preached a brief message relating to the show to challenge them; 10 persons responded, 9 for salvation and one Church member for rededication. Praise God!
Saturday, February 16th: I had a business meeting in Yekepah with the GBC deacons and the Acting Pastor to familiarize myself with some ongoing works on the church property and some needs.
Sunday, February 17th: Service was inspiring and encouraging. My travelling companion, Pastor Joe Gueh, was asked to teach Sunday School and I preached in the main service. The Business meeting was held after service where I informed them of the provisions the Lord enabled me to assist with. May the good Lord bless us all and the sources of HIS provisions. The women cooked and we all dined together.
Praises and Prayer Requests:
Refurbishing of roofing on Church building and ceilings, which I was told, they have funds to complete.
Water reservoir concrete stand, which was under construction. They need funds to dig the well and the reservoir tank.
Parsonage is in ruins with only walls standing, can be refurbished at the cost of $9,125 (US).
The J. T. Lyons Elementary School building is also in ruins with only walls standing. This will be established, by His grace, when work on Parsonage is finished.
We praise God for the provision of a portable generator to provide lights and fans during services. It is stored in a nearby home for safe keeping.
Having carefully listened to praise, thanksgiving and testimonies, as well as sharing of Spiritual and Material needs, I encouraged them to continue to be faithful in GIVING biblically and the support of the acting pastor.
Our prayer answering God, through a special blessings, enabled me to: (1) Contribute $600 toward the refurbishing cost of $9,125 (US) to purchase all the roof planks for the parsonage, which was an immediate need.  (2) Pay for digging the well, two bags of rice for the church at the total cost of $150.  (3) Provide special needs like gifts to some needy, at a total cost of over $250. The song writer says "Little is much when God is in it…."
OTHER BLESSINGS AND ENCOURAGEMENTS:
The family of Mr.  & Mrs.  Zuagar hosted us for the six days we spent in Yekepah. Praise God! We were encouraged.
Stayed with family of William Bloh in Monrovia. We praise God for bringing all these wonderful families in our way. The Lord's hand was in the entire journey.
Had a wonderful time of fellowship with the Zerbes. Had a special evening service with Revelation Baptist Church and Pastor Thomas Yeeson's family with the opportunity to see the new church facility.
Had a good visit with Bro. Prince, Sophia and Sarah Kpadeh.
Ministry needs both in Ghana and Liberia are numerous.  I will be presenting them one at a time with photos for you to keep on praying with us about them.
Keep praying with the needs of Grace Baptist Church Yekepah. If the Lord is leading you to assist with their needs, you may channel it through:  Good News Baptist Church, c/o Pastor Kedrick Brown, 422 Harmony Road, Middletown, NJ 07748, Phone: (732) 693-6818,  Email: brown_kedrick@yahoo.com
Thank you, again, for your prayers.  God bless you and more and more.
Pastor John and Dorcas Kennedy