Manuel Diaz: July 2014 Prayer Letter
DEAR BROTHERS, OFFSPRING OF GOD: JULY 2014.
"For our light affliction, which is but for a moment, worketh for us a far more exceeding and eternal weight of glory; While we look not at the things which are seen, but at the things which are not seen: for the things which are seen are temporal; but the things which are not seen are eternal." 2 Co 4:17-18
Greetings from the city of Bata, which we arrived 10 days after leaving our beloved Mexico, so it was, believe it or not, this trip has been one of the most difficult of which we have made to Africa.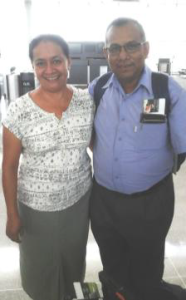 After a journey of more than 12 hours, leaving from the city of Washington we arrived to Ethiopia at 6 a.m., three hours after would take the plane that to take us to Equatorial Guinea, that moment everything went without problems; the problem began at the moment of stepping on Equatorial Guinean land.
Grateful to God for having come to our field mission, we begin to experience what we had heard about the changes that were happening in the place and we live them personally.
Previous to reviewing documents from entering the country, intercept us a woman who was identified as of migration, who only turned to my wife and me, after looking at our entry visa which had no date of expiration. She determined that we could not enter the country because our residence had expired and without giving us no chance to fix the issue demanded to us to back to the plane in which we had arrived, we return to the aircraft which after a stopover in the city of Douala in Cameroon, returning us to Ethiopia.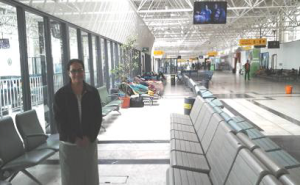 We were very tired, we could not believe it, we had left Ethiopia at 9 a.m., arriving in Equatorial Guinea at 3 p.m. and now were flying back again to Ethiopia where we arrived at 12 noon. There they retained us our passports and forbidden to leave the airport because the Department of immigration of Ethiopia denied us visas. We were being detained for deportation from Equatorial Guinea.
It was weekend and we could not do anything, the only solution was to buy a return ticket to Washington, our prayer was that our God directed us and gives us strength in this difficult time that we were living, trusting that He would give us the answer; we decided to wait with the desire to return to Equatorial Guinea.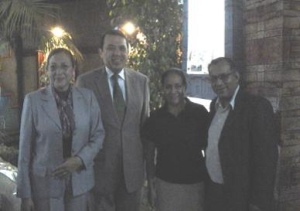 We prepare for our first night in the airport. It is amazingly the peace that our God has placed in our hearts; we knew beforehand that the Lord would lead us back to Equatorial Guinea.
The next day, after exploring the place I located an internet which cost $ 5.00 dls. per hour, was very expensive however, there I found that there was an Embassy of Mexico in Ethiopia, to which I sent a report of our situation.
On Monday I called and confirmed if they received it and the afternoon, the Ambassador Alfredo Miranda was personally to the migration office of the airport requesting a visa for us, which was given us and so we leave to a hotel where we could rest, the cost was $100.00 dls. every night.
Thank God the Ambassador informed us that already had called to the Equatorial Guinea Embassy requesting a visa to us to return to Equatorial Guinea, with a price of $110.00 dls. each.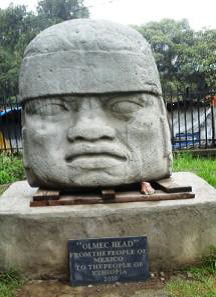 We waited 4 days passed for our visa and the Mexican Embassy gave us transportation and took us to visit some places of interest within the city Addis Ababa. We are a gift from Mexico to the people of Ethiopia (one Olmec head). But the most important thing they need is to know about Jesus.
Already with a visa for two months, and after buy return tickets ($1,607.00 dls. both) finally we arrived in Malabo on next Friday at 3 p.m., there we overnight and the next day reached our beloved city of Bata.
On Sunday we attended service in the morning where we salute the brethren, who had been praying for the situation that we had passed. We glorify God for allowing us to see them again, faithful to the Lord, but they have faced many difficulties and illnesses during our absence.
We knew that one of the sisters of the church went to be in presence of the Lord in the month of January and that brother Marcos is very sick with tuberculosis, which has greatly affected his left lung with perforations.
We beg your prayers for him, we see him very listless, no forces in his body, now is on bed in a hospital in the city of Micomiseng to 6 hours from the city of Bata.
On the other hand we find many of our things broken down, rusted by as much moisture, our refrigerator does not operate, our small car either, at the stove only half served two racks, and so some other things.
As you can see my brethren we have had many expenses extras, which were not considered, such as: lodging in Ethiopia, payment of tickets from Ethiopia to Equatorial Guinea, repairs of electrical appliances, car repair expenses, rental house, etc. After 8 years in Guinea, things have been spent and we have begun again, which thought to invest on our arrival has gone in the extra expenses.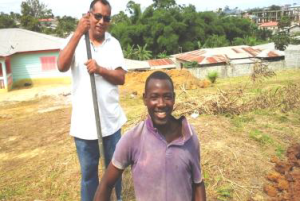 However we know that God has a purpose for everything, in Ethiopia we had the opportunity to speak with the Ambassador, encouraging him to read his Bible and we keep in touch with him, we gave him a film of creation, trusting our God will prepare his heart and first God one day we will have the happiness of knowing that has placed his faith in Him as Savior and Lord. Please pray for him.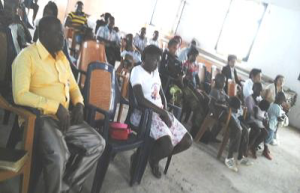 On the other hand we have begun to prepare the place where the Church is located to start a school as ministry of it; we want to comply with the requirement of the Government of having social work as a church. But also with the vision to be testimony of our Lord and Savior Jesus Christ and with the desire that He will use the children so their families can be saved.
We need all of your support, if God puts in your heart to take part in the formation of these children, hear His voice, remember that: "Your support gives them hope."
Although there is much opposition, of the Government against any religious movement that is not Catholicism, has been thus forbidden religious proselytizing and testify on the streets and in the homes. We do it in the area where we are, in addition to organizing events in the Church itself.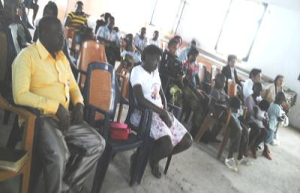 Thank God, visitors have come to church every Sunday and some have been saved, but for the moment we are reorganizing all the ministries of the Church.
Please pray for our Biblical Vacations School which will be from 19 to 23 August, and also for the classes of hermeneutics and Panorama of the New Testament that will be being teached for Bro. Alberto Garcia and your servant.
Very important, please not forget to join us in prayer and financially to the purchase of a car, because our car will not last long, for the moment it is in the workshop and we hope that can be repaired, the climate, and the lack of original parts in place has caused its deterioration, in these eight years it has been a great blessing.
A car is very necessary to bring people to the Church, but also more secure to move from one place to another, lately foreign climbing taxis robberies has increased, without knowing that the driver agrees with criminals, carry the passenger to another place and after to steal him everything, leaving him far away from the city.
Please pray for us, so that the Lord protects us and keep us from what is happening in this place. Thank you for your faithfulness, for your support in prayer and economic, souls are being added to your heavenly account. Let´s continue faithful. God bless you and see you next.
Your Missionaries
Manuel Diaz and Family:  Reyna, Eric, Erika and Eunice
Reaching Africa:  Because our Redeemer lives. (Job 19:25-27)