Bill and Marcy Patterson August 2014 Prayer Letter
Dear Praying Friends:
Thank you very much for praying for my health! After five weeks of illness after my last trip to Mexico, I finally recovered. The next week, I was on a plane back to Mexico, joyful for God's work of opening doors for ministry. Before even leaving the airport, I had led a porter to the Lord and counseled a Christian young lady who wants to be a missionary to India. God delights in organizing "Divine appointments!"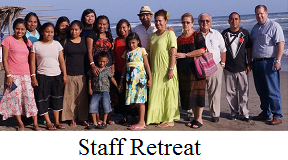 Mexico Trip: During the last ten days, I have preached twelve times in Chilpancingo, Acapulco, Tlapa, and Tixtla. We also visited a church in Tepeyac. Their building was destroyed in heavy flooding last year. While in Acapulco for our annual Staff Retreat, I taught through the whole book of Esther. Afterwards, we traveled to Tlapa for the 45th Anniversary of the Bethesda Children's Homes. During this trip, the Lord allowed us to see nineteen souls come to the Savior!
Mongolian Translation: By God's grace, Oyumaa and I have almost finished our work on the book of Luke. Lord willing, we will start Acts before the end of the month. Please pray for this vital project.
Transitions: Our eldest daughter, Heather, will depart for Pensacola Christian College on August 30. We thank God for the eighteen years we have had her in our home, and we will miss her terribly. At the same time, we know that God has great plans for her life, and we rejoice to see her desire to serve our Lord. Please remember her in your prayers as she plans to study Graphic Design. Please pray for us, also.
Sincerely,
Bill Patterson