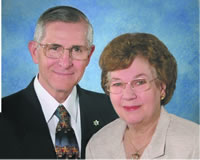 Tom Gilmer: November 2014 Prayer Letter
Dear Friends of Zion:
Thank you for helping make another successful month of ministry possible by praying and giving.
This month we complete fifty years of missionary work, which we began while still in college in Chattanooga, Tennessee. With the help of faculty adviser Dr. Louis Goldberg, we started a Friday night Friends of Zion meeting with a few college students in l962 and a monthly Messianic Society in l963, with hundreds of students, some of which became missionaries to Jews. We witnessed to Jewish people in the Chattanooga area and encouraged others to do the same. Our largest-ever meeting at that time was the showing of a documentary film regarding the Holocaust, entitled "Let My People Go," at which Dr. Lee Roberson raised an offering to help the young, struggling modern State of Israel. In November l964, Dr. Jacob Gartenhaus led International Board of Jewish Missions, then located in Atlanta, Georgia, to accept us as their very first American-born missionaries. A year and nine months later, we arrived in Brazil to do more of the same and much more. All honor and glory to our Lord and Savior, Jesus Christ.
The last weekend of October, Linda and I were honored, as founders of Friends of Zion, to participate in a weekend of celebration at the Christ is Life Fundamental Baptist Church in Fortaleza, Ceará. The pastor, José Nogueira is a fervent friend of Israel. On Sunday evening, October 26, Midnight Call Ministries cooperated with the Friends of Zion group from that church in a special service attended by about 800 people. On Monday evening, the 27th, Friends of Zion cooperated with Midnight Call Ministries in an "Honor Israel Night". Over l,000 attended that service, including delegates from another Friends of Zion group that the church in Fortaleza started in a city about 100 miles away. We had a book table to offer Stars of David as a tool for witnessing to Jews and also beautifully bound copies of the Almeida-Corrigida-Fiel (ACF) Bible, which we publish.
The work on the third edition of the Bible with Evangelism Notes Presenting the Messiah is almost complete. A Sunday school teacher, who also leads a Saturday afternoon Bible workshop, found a water-damaged copy of the Bible with Evangelism Notes that was destined for the trash. He rescued it and started using the notes to teach children how to witness. He wants more copies, but even though almost 400,000 were printed, no more are available until a new printing takes place. A letter came from a prisoner in the state of Minas Gerais who referred to the tracts by Jim Lyons and Sumner Wemp that were in the second edition of that Bible. He requested a Bible correspondence course and asked for someone to please visit his wife and children to talk to them about the Lord. One of our contributing churches raised an offering that will cover the cost of pre-press for the new edition in three sizes! Praise God! May the Lord continue to bless!
Yours for the Messiah,
Tom and Linda Gilmer
PRAISE:
Professions of faith: 15.
Professor Assis and Camila left for the USA on Wed,, Oct. 29.
The deaf church wisely confirmed their decision not to lead the founding of the Guacuri church. This helps in reformulating the team.
Two rains this past month opened doors for witness.
PRAYER:
Salvation of Jews and Gentiles.
Bible study helps, especially a) Expanded Edition of Evangelism Notes for secular publisher; b) Limited notes edition for Brazilian R$1.99 Stores.
New churches, growth of existing ones, and Guacuri, reformulating team.
APPS, CD, MP3, and Audio Bible problems and opportunities in slow progress.
Rain for São Paulo and others areas of Brazil, severe drought. Keep praying.