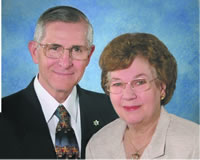 Tom and Linda Gilmer: February 2015 Prayer Letter
Dear Friends of Zion:
Thank you for your faithful prayers and offerings. Your support makes our work possible.
As I was preparing an answer for a contributing church, I was pleasantly surprised to see how many salvation decisions we had in 2014. Praise the Lord, 159 (including four Jews) confessed Jesus Christ as Savior.
Flipping through some past prayer letters and rejoicing in victories, I noticed that, in October 2012, I responded to a contributor's question asking what we hoped to accomplish in the next two years. Of the nine items I mentioned, only one was not realized!
1) You gave $1,376 to help the Paraisópolis church complete the expansion of their auditorium.
2) The Guacuri church is not yet a reality, but please check Harold Ralph and Lilian's prayer letters for a progress report.
3) The Serra Azul church now has a pastor carrying forward that work.
4) The $45,000 for land for the church in Bahia, started by José Cerqueira from our first church, was provided by Brazilian churches, including funds for the building. Praise the Lord for this miracle!
5) People I was mentoring have developed and become leaders.
6) All Portuguese-speaking countries now receive at least the New Testament, Psalms and Proverbs in the Almeida-Corrigida-Fiel text that we publish. Many of these countries receive the entire Bible in the ACF text. Work continues to find people who can get Bibles into the supply chain of books (bookstores, distributors, etc.), especially in the African Portuguese speaking countries.
7) Brother Francisco Assis is completing his saturation in English, preparing to study at Cambridge University in England to complete his doctorate in Greek. At the moment, through Trinitarian Bible Society of London, our Brazilian branch (Sociedade Bíblica Trinitariana do Brasil) is participating in more than 40 translation and revision projects.
8) In addition to five daily radio programs we helped develop, which are aired by BBN Radio in Portuguese, two Bible reading programs are now heard on a São Paulo internet-based radio station.
9) A new edition of the RCM (Reference, Concordance, and Maps) Bible, prepared by Harold Ralph, has been released with wider margins than ever. Work on the APPs and all social media go forward.
Thank you again for helping us continue to plod forward, even though sometimes we take only one step forward and two steps back. To God be the glory for all He has done.
Yours for the Messiah,
Tom and Linda Gilmer
PRAISE:
Professions of faith: 3.
Evangelism notes, last article finished.
Team for Guacuri church formulating; see Harold Ralph's prayer letter
Another volunteer for the APPs project.
Samuel improved, hearing partially recuperated; back in school and music ministry..
Archaeological course with Pr. Nogueira in Israel next summer: 25 inscriptions to date.
PRAYER:
Salvation of Jews and Gentiles.
Bible study helps.
New churches, growth of existing ones.
APPs, CD, MP3, and AUDIO BIBLE: problems and opportunities; slow progress.
Horácio – Hebrew Christian – cancer.
Linda – dermatological allergy problem.