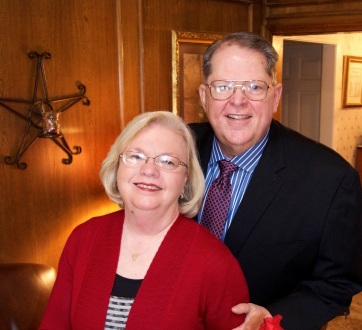 Mike Patterson: June 2015 Prayer Letter
Dear Ones:
God has answered your prayers with my improved health.
The last year has been a challenge to our faith.  Four heart attacks, five stents and two heart ablation surgeries have been endured.  Becky has
endured foot surgery and several oral surgeries, but our God has been so faithful to us.  I am now in cardiac rehab and we plan our return to Mexico the week after it is completed.
The best fruit is often grown in the valley of testing.
Weakness has afforded time to spend in His presence. It has deepened my prayer life, love for our family and the people He has chosen for us to serve. It has been a gracious gift from our Lord.
Daily contact with our national leaders.
I am in daily contact with the leaders of our homes and Mexican offices. They love the Lord and us. I also receive daily emails and phone calls from all over the world from other missionaries. Even in weakness I have been in my office for at least a part of six days of every week. I will work until He calls. Bill, now the president of the mission, calls me several times each week for advice…I did the same thing with Bro. McCoy, and it saved me a lot of heartache.
Tlapa has been a hotbed of terrorist activity.
Union operatives within the education system have incited riots and looting in Tlapa. There probably is not a "right" or a "wrong" group in this strife but anarchy has reigned. God's hand of protection has been evident for both the children and staff of the homes. We have not had any loss or harm though death and destruction has come in our midst. We purchased new mattresses for both homes shipping has been delayed by road blocks and hijacking. Pray that a window of opportunity will be afforded soon.
In His love,
Mike Patterson
PS:  Our most difficult time of the year financially is summer.  Our monthly support has dropped and our medical issues have exhausted our carefully saved emergency funds.  Thank you for your prayers.
Special Note:  I will be preaching weekends through the summer and will be available now that my strength is returning.