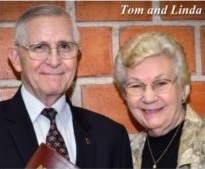 Tom Gilmer: October 2015 Prayer Letter
Dear Friends of Zion:
Thank you once again for your faithful prayers and offerings, which help make our ministries possible.
We were surprised to find ourselves in the USA during the month of September. When our granddaughter Amanda announced her wedding date several months ago, we felt there was no way to be there on September 26. The Lord had other plans. Our son, Thomas, Jr., helped us get round-trip tickets for less than $500–total! Then Worth Baptist Church sent an email stating they needed veteran missionaries for their Missions Conference and asked if we could be there. The date? The week before the wedding! About the same time, Sonlight Baptist Church requested our presence for their 50th Anniversary on the first Sunday in September, as the first missionaries they supported. To top it all off, Thomas, Jr., was able to change the dates on our airline tickets to include these two invitations at no extra cost! The offerings given by Worth Baptist people for the Missionary Conference will push forward several Bible projects that have been on hold for some time. Praise the LORD!!!
Traveling from one engagement to the other afforded the blessing of visiting relatives, such as Linda's brother David, her only surviving aunt, and other family members. To our delight, Tom's brother, Edwin, although very ill, was loaded with his oxygen equipment into his truck and went to the wedding with his wife, Jan, and sister and brother-in-law, Nancy and J.L. Yopp. Our daughter Ruth and her family from Mississippi were also there for a wonderful time of family reunion. Tom and his siblings had more time together just to sit and reminisce than they have had since Tom left home to study for the ministry 56 years ago!
We also had many opportunities to witness to people from all over the world as we traveled. One of the most touching was a friendly Hindu hotel receptionist. When we asked if she had a Bible, she said, "No, I have only the Hindu scriptures." "Would you like a Bible?" we asked. "Yes! I would!" she said. We gave one to her and also to the owner of the hotel and another clerk. As we have stated various times, the Lord is taking the foreign mission field to the USA! The thoughts and habits of the newcomers may be strange, but their souls are eternal and they need Jesus in America as much as in their own countries. Thank the Lord for the opportunities you have to witness—and witness around the world without leaving the USA! Tracts in diverse languages are easily available. With a click on just one APP <bbnradio.org> you will find radio stations in eight languages with chat rooms and Bible Institute Online 24/7. God bless you!
Yours for the Messiah,
Tom and Linda Gilmer
PRAISE:
Professions of faith: 1.
Many opportunities to witness and distribute tracts, one-on-one.
Progress on APPs and MP3 with Bible.
Special offerings received at Worth Baptist Missions Conference for Bible projects that have been on hold.
Safe travels in September
PRAYER:
Intensify prayers for salvation of Jews and Gentiles.
Bible study helps.
New churches, growth of existing ones.
APPs, CD, MP3 and AUDIO BIBLE: problems, opportunities, slow progress.
Israel Appreciation Night, October 26.