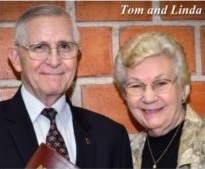 Tom Gilmer: January 2016 Prayer Letter
Dear Friends of Zion:
As we begin this New Year, Linda and I thank you for your continued prayers and offerings as co-laborers.
The last paragraph of our December prayer letter speaks of delaying our next furlough for another year or two, but "promise to go anytime we are needed. . ." That need came sooner than expected. I needed to go to the funeral of Rev. J. L. Yopp, my brother-in-law married to my only sister, Nancy. The Lord provided weekend passage, Friday night to Monday morning, at minimal charge. May the Lord help us all to live up to a eulogy in his obituary: ". . . he shared his faith with anyone who would listen. . ." Our thanks to the Yopp family for requesting that, "in lieu of flowers donations be made to the Pleasant Hill Baptist Church Building Fund or the ministry . . . in Brazil." All of the offerings received in lieu of flowers will go toward the project we are launching in this prayer letter.
We need a van to transport groups from the New Life Baptist Church in Jardim Ingá to the Guacuri area for soul winning and to take people from Guacuri to Jardim Ingá for some services while a building is being built for the church in Guacuri. The van will also be used as needed for the Bible ministry. Funds projected for this first phase will help cover the purchase of a van and the first of many "bureaucratic red tape" fees, as well as initial architect, engineer, and legal costs associated with starting the new church. The total amount needed? After a two-hour session with the lawyer who will help walk us through the "red tape," and after the latest hike in vehicle prices, I sadly have to say we need $24,000 now–$6,000 more than the $18,000 we first projected. At this point we have received about 10% of these estimated costs. Thank the Lord this is already in hand and was more than enough to contract the lawyer.
We must mention the Homegoing of a faithful prayer partner, Mrs. Ruby Margaret Caldwell Wicker, who reached 100 years of age before the Lord called her Home. Her daughter, Helen (Mrs. Gary Monie), told us Mrs. Wicker read our prayer letters and prayed for us to the end–over 50 years of prayer investment! Thanks to Gary and Helen for the gift to our ministry in her memory. And thanks to those of you who continue to labor with us in prayer, "For we wrestle not against flesh and blood. . ." May God richly bless you.
Yours for the Messiah,
Tom and Linda Gilmer
PRAISE:
Professions of faith: (1)
Lawyer contracted for Guacuri church building project.
Many more tracts, more sowing than usual, preparing for more reaping.
PRAYER:
Salvation of Jews and Gentiles.
Bible study helps.
Church planting.
APPs, CD, MP3, and AUDIO BIBLE problems, opportunities, slow progress.
Warehouse for Bibles