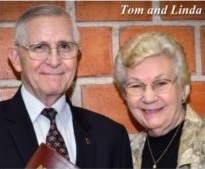 Tom Gilmer: March 2016 Prayer Letter
Dear Friends of Zion:
PLEASE PRAY! I ask and implore! Pray for the leaders of Brazil, according to I Timothy 2:1-4. As I write this prayer letter on March 17, I am watching the Session of the Brazilian Congress as they debate the possible impeachment of the current president of Brazil, Dilma Rousseff, and imprisonment of the former president, Luis Inácio Lula da Silva. In the years we have been in Brazil, I have met and given Bibles and tracts to most of the presidents, presenting the plan of salvation, orientation on Biblical ethics and support of Israel, but Dilma Rousseff has been impossible to reach. I still hope to have that opportunity.
Much has been going on in our ministry during the past month, keeping us so busy we could not stop to write this letter until now. At first I was sad to be so late, but now I am glad, because I am writing on the very day this issue is rupturing. It is of such importance that we must omit other matters to give emphasis to this moment.
Common crime is at an all-time high. On a recent Saturday at 7:55 PM, as I was driving away from our house, a thief came running toward me, gun in hand. I accelerated, blew the horn and escaped, even as I took a chance on hitting the thief or being hit by another car as I turned the corner onto a busy street. Common criminals justify their crimes, saying that politicians at the highest levels are thieves. The corrupt politicians openly state that stealing is in the DNA of Brazilians and that all Brazilians, including religious leaders, lie and steal. Unfortunately, there appear to be many charlatans.
The number of people who call themselves Evangelical Christians has greatly increased in recent years, because false Christian groups have invested more heavily in Brazil to start churches and print literature than have sound, Bible-preaching groups. Most who became "Evangelicals" (on leaving Catholicism) during the past twenty or thirty years do not say they were saved but that they were baptized on a certain date. Their lifestyle, entertainment habits, and questionable business practices have not changed; only their religious label.
Brazilian missionaries living outside Brazil are suffering as they receive fewer dollars (or whatever the local currency might be) because of the devaluation of the Brazilian "Real." On the other hand, American missionaries receive more Brazilian "Reals" for their US dollars. For a moment this can help in real estate, construction, automobile, and other major purchases, but local prices are rising rapidly. This has hurt our Bible publication and distribution tremendously, because all paper and printing costs are tied to the US dollar.
Please, please, please pray that the current impeachment and judicial processes against corrupt politicians and organized crime at every level will result in a more stable economy and a safer Brazil, more open to the Gospel and more fruitful than ever. Be sure to read the latest prayer letters of Harold Ralph and Rom Ribeiro. Linda and I thank you for your prayers and offerings for our work. May the Lord continue to bless you.
Yours for the Messiah,
Tom and Linda Gilmer
PRAISE:
Professions of faith: 9.
Progress on documents for Guacuri church project.
More tracts, more sowing, more reaping.
February conference on "The Local Baptist Church" successful.
PRAYER:
Salvation of Jews and Gentiles.
Bible study helps.
Church planting.
APPs, CD, MP3, and AUDIO BIBLE problems, opportunities, slow progress.
Warehouse for Bibles.
Conferences in July and August.
James Edwin, my brother – health.
Relief from political corruption and criminality resulting in financial crisis in Brazil.