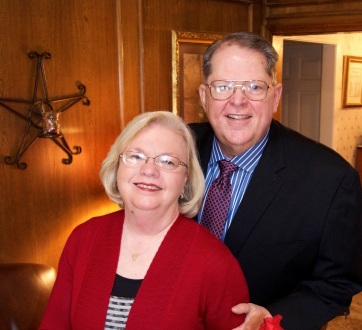 Mike and Becky Patterson: August 2016 Prayer Letter
Dear Ones:
This just came from Estheli, wife of Osmani Pelaez, church planters in Morelia, Mexico. We first led her grandparents to Christ. Seventeen couples from this family now serve worldwide.
Brother Mike we are profoundly thankful to you for taking the Gospel to our family. You taught us to love the entire world and that world evangelism is the heartbeat of God. We admire and love you.  Thank you for preaching to us with tears. Thank you Sister Becky for your example that inspires me to become a woman of God.  We love, admire and respect both of you.
Praise the Lord with us we have tickets to fly back to Mexico in one week.  My last cardiologist visit revealed my heart function to be far better than we dreamed possible. I have been released to travel.  I sincerely believe your prayers have made the difference.
Though weakened, I have learned to pace myself. I will be preaching in Cuernavaca, Tlapa, Mexico City and several other places in September and October. We will lead the Tlapa Reunion and speak in the 32th Anniversary of the church we started in our home.
I have been honored with an invitation to preach at Mount Zion Baptist Church of Mexico City. Dr. Kevin Wynne and his workers now fill their 7000 seat auditorium three times each Sunday. We helped them when they were tiny. Though no longer tiny, they have not forgotten.
I hesitate to mention this again but we still have medical expenses. In 2015 our out of pocket expenses were over $25,000 (all paid.) This year is not much better and my meds alone are about $1000 per month. Please join us in praying. The Lord is our supply.
The expense of the Reunion will be about $5000. I am still praying for sponsors for this vital event. Nor have we been able to order uniforms; we lack about $4000. We only ask for prayer.
In His love,
Mike Patterson
P.S. This exciting letter could never have been written without your prayers and sacrifices. Thank you from the bottom of our hearts.  There is no greater joy than serving the Lord.