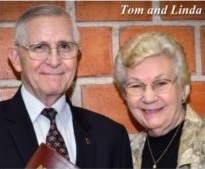 Tom Gilmer: August 2016 Prayer Letter
Dear Friends of Zion:
THANK YOU for patiently praying for us and contributing to keep our ministries expanding during these weeks. So much is happening that we did not get a July prayer letter to you and this letter is late.
Prayer is needed as we close out this month with a three-day conference planned and paid for by our first church, Templo Batista de Indianópolis, to celebrate our 50 years in Brazil as of August 30, 2016, which is also Tom's seventy-fifth birthday.
We hope to be back on schedule with our monthly prayer letter as of the first of September.
Yours for the Messiah,
Tom and Linda Gilmer
PRAISE:
Professions of faith: Total number for June and July to be reported in next letter.
Exciting Guracuri update. See enclosed prayer letter of Harold Ralph.
Successful July conference.
PRAYER:
Salvation of Jews and Gentiles.
Bible study helps.
Guacuri church project.
APPs, CD, MP3, AUDIO BIBLE.
Warehouse for Bibles.
Conference end of August.
Political and financial turmoil in Brazil.