Rom Ribeiro: August 2016 Special Prayer Letter

"For to their power, I bear record, yea, and beyond their power they were willing of themselves" (II Co. 8:3).
Christians can give above their power not only financially, but spiritually as well. As we look back to just a year ago, we are amazed to see what God has done in our new ministry in the Southeast of Brazil: our rented building is already small for the 60-65 people attending our services; we have built walls around the lot for our future church building, and laid the foundation for the auditorium. The funds for these endeavors came from our new converts in Ribeirão Preto, the mother church in Goiânia, and from our brethren in the USA. Praise the Lord!
We could build the entire sanctuary (leaving it completely ready), and 60% of the Sunday School building (the rough structure) for about $195,000. Our new church is a reality, and is already influencing other churches towards Missions. Please let us know if you can help us with this project as soon as possible. This past week we received the news that one of our sending churches is planning to send $10,000 for this purpose. Praise the Lord.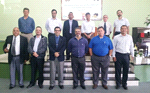 This past year, we also assisted in reopening Ebenezer Baptist Institute and in helping to organize the Antioch Project which helps Independent Baptist pastors establish new congregations through the Mother Church concept. Rom has had the opportunity to preach in several churches in this region promoting Missions and continues, about once a month, to assist the first church we established in Goiânia.
Thank you so much for praying for our physical and spiritual protection. We cannot succeed in the ministry without your help and the Lord's grace and mercy.
May the Lord continue to bless you richly.
In His Perfect Love,
Rom, Rachel, Rochelle & Roxanne Ribeiro