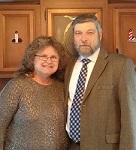 Charles Barnes: April 2017 Prayer Letter
Dear Praying Friends,
"Ye have not chosen me, but I have chosen you, and ordained you, that ye should go and bring forth fruit, and that your fruit should remain" (John 15:16)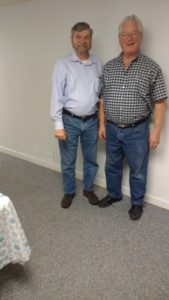 The man I am standing with is Keith Page. He was saved through an earlier church plant I began in 1993. Since his salvation, he has been active in a Baptist Church, near his home, serving as a bus worker, trustee and treasurer. We recently shared breakfast together and he always says thank you for telling him about Jesus Christ. Brother Keith represents one of those fulfilling the promise of Christ in John 15:16.
We have several who desire to be baptized as soon as the outside temperature allows. (I am not of the persuasion, like those of the past, who would baptize through a hole in the ice). We have two new individuals coming each week and, with the approach of "tourist season", we often see new visitors some for just a Sunday, some for the summer.
I have been in contact with another preacher who is considering coming and pastoring this work. Please pray for the Lord's will to be accomplished in this matter as we wait on Him for His timing to direct the right individual. "Pray ye therefore the LORD of the harvest, that he will send forth labourers into his harvest" (Matt. 9:38). It is a matter of faith for families to leave that which is comfortable and familiar and step out into the variables of a new geographical region and accompanying mindset.
Thank you for your thoughts and prayers on our behalf.
Planting for Christ,
Chuck Barnes, Sr., Barbie and Kimberly
Prayer Requests:
An island visitation outreach coming up in May/June
For continued spiritual growth of the church
For men to answer the call to serve in rural Maine and the Canadian Maritimes