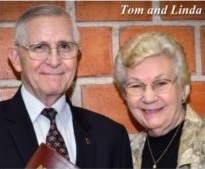 Tom and Linda Gilmer: August 2017 Prayer Letter
Dear Friends of Zion:
Once again we thank you for giving and praying so we can continue to work for the Lord here in Brazil.
An Israeli Christian, ministering in Israel, hosts an evangelistic website in Hebrew that is translated into other languages. He contacted us in June of 2014, requesting help to translate the content of the website into Portuguese. Mr. Peter Issar, a Christian Brazilian/American translator of Syrian descent, accepted the challenge. By the end of that year, the material was accessible in Portuguese. Thousands have visited the website. On occasion our Israeli brother in Christ passes on some names to us for follow up.
In April Abe (not his real name) wrote to the website from Brazil: "I would like more information about this study group. I am a Jew interested in the name YESHUAH HaMASHIACH (Jesus the Messiah)." Still too weak to handle the request on my own, I asked Mr. Issar to help. In July I sent an email to Mr. Abe inviting him to attend a service at Templo Batista de Indianópolis, our first church, and our Friday night Friends of Zion meeting. Mr. Abe replied: "I have heard much about Friends of Zion. I live in the interior. . .when I can, I will visit."
I wrote again, asking if he would like to receive printed information through the Post Office and in what language he would like to receive it. He sent his mailing address, requesting material in Portuguese. The LORD helped me prepare a package with a Bible and various tracts and booklets. He replied that he will read it all! We will not put his name in the prayer column, but we will pray for him daily as we do for many Jews on our prayer list. I trust you will do the same. As there are interesting developments, we will inform you.
The preaching point in São Miguel Paulista is developing wonderfully. Jorge Oliveira, the young man leading the work, is enthusiastic and seeking diligently to win souls, including his Spiritist family members. Three of his Spiritist aunts attended his meeting on a recent Sunday. During these months of illness, the LORD has helped me as Jorge´s mentor to push the work forward. To GOD be the glory.
Yours for the Messiah,
Tom and Linda Gilmer
PRAISE:
Professions of faith: 2
Tom is working full time from home as he continues physical therapy and will begin outside ministry this month.
New churches: see Harold Ralph's prayer letter concerning Guacuri and the last paragraph of this letter regarding São Miguel Paulista.
PRAYER:
Salvation of Jews and Gentiles.
Ongoing projects (church planting, Bible study helps, media outlets, and warehouse for Bibles).
Tom's recuperation from 2nd spinal surgery
Illness in family of our daughter Ruth Hammond: 4 with Rocky Mountain Spotted Fever and one with a broken leg while working at a Christian camp.