Tom and Linda Gilmer: January 2020 Prayer Letter
Dr. Thomas and Mrs. Linda Gilmer
Church Planter, Bible Translation in São Paulo, Brazil
January 2020
Dear Friends of Zion:
Our January Prayer Letter, with thanks for your prayers and offerings, doubles as our Annual Report for the year 2019.
SALVATION DECISIONS: 1 Jew, 96 Gentiles
---
MAJOR PROJECTS IN 2019
Continuity of 9 churches with growth.
$ 10,000 Matching Gift for an elevator at our first church, Templo Batista de Indianópolis, goal reached with $10,812 in offerings from our contributors and TBI combined. Tithes, regular offerings, and missions offerings also increased.
---
MAJOR PROJECTS FOR 2020
More of the same: Churches (9); Jewish ministry, Bible publication and distribution, books and literature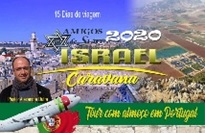 Full support for Harold Ralph Gilmer (needs 50% more to free up funds from Trinitarian Bible Society of Brazil, which helps in his support). Long overdue furlough, projected May to December 2020, with a trip to Israel to minister to some of our own whom we helped over the years to go to Israel and to participate in a Caravan from Brazil, led by our Brazilian missionary Pastor Alexandre Bezerra Dutra (see picture at far right).
Yours for the Messiah,
Tom and Linda Gilmer
PRAISE:
1. Professions of faith: 1 Jew, 96 Gentiles
2. Matching Fund for an elevator for Templo Batista de Indianópolis reached.
3. Continuity of nine churches.
4. Successful Bible Preservation Conference in NE Brazil, with Harold Ralph
5.Projected books in the works.
PRAYER:
1. Salvation decisions: Jews and Gentiles.
2. Ongoing projects (Bible study helps, media outlets, warehouse for Bibles, exportation of Bibles to all Portuguese speaking peoples around the world)
3. Two new directors and/or volunteer professional technicians for Bible printing ministry).
4. East Timor Tetum Bible translation project.
5. Full support for Harold Ralph Gilmer