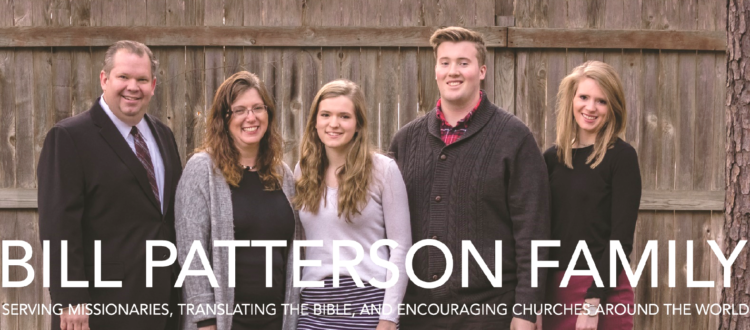 Bill and Marcy Patterson: March 2020 Prayer Letter
Bill and Marcy Patterson
MABMI President, Church Planter, Bible Translator
March 2020 Newsletter
Melissa's first visit to the church in Phoenix is one she will never forget. Several years ago, she and her new husband visited various churches trying to find something that she described as "missing." That service would be the last "normal" service before the virus precautions. The pastor had asked us to practice "social distancing" in the announcements, and all had obeyed. It was the first time in ten years for her husband to be in the church in which he had grown up. When I extended the invitation, Melissa accepted Christ.
Bible Translation News: Before the coronavirus pandemic, Marcy and I had planned to be in Mongolia for the entire month of April. In early February, Mongolia went into lockdown, and all meetings were cancelled. The local government began using drones to find small groups that were defying the mandates. A few days later, the airports and public transportation shut down. Our team is meeting via the Internet. The process is much slower. Please pray that we will soon be able to continue our normal work of translating the Bible.
Mount Abarim News: In the last few weeks, missionaries in four different countries have expressed a desire to join Mount Abarim, and two applications have already been received. We look forward to serving these wonderful families. Most of our missionaries have been greatly impacted by the pandemic. There are financial and logistical obstacles that are unprecedented. Please keep us in prayer as we try to help those in need.
Family Update: The area where we live has a "shelter in place" order that began today. One week ago, we had to fly Tricia home from college at West Coast Baptist College. Ryan has been able to work from home, although the business where he works is closed. He is looking for another job, and we are praying with him. Heather decided to stay in the Washington, DC area in order to be available for small meetings with her graphic design firm. We are in almost daily contact with her, and she is doing well. She served as a lead designer at the C-PAC annual meeting and was quarantined for two weeks. Praise the Lord, she did not fall prey to the coronavirus. Marcy and I are well, spending extra time in prayer, reading, and enjoying our kids.
Thank you for praying for us during these unusual times … we need your prayers!