Tom and Linda Gilmer : Annual Report for 2020
Dr. Thomas and Mrs. Linda Gilmer – Church Planter, Bible Translation in São Paulo, Brazil
Dear Friends of Zion:
Thank you so much for your faithfulness in giving and praying for our ministries through the unprecedented challenges of this past year.

PRAISE: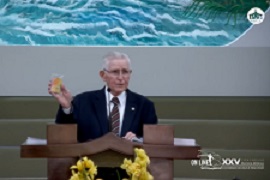 FURLOUGH had to be canceled because of the COVID Pandemic, but our presence in Brazil was more valuable for our ministries. The furlough is rescheduled for mid-2022.
PROFESSIONS OF FAITH: 1 Jew, 50 Gentiles.
CHURCH MINISTRY: Our latest congregation, a house church in Itapecerica, has no in-person services because the space is too small to obey COVID restrictons. The work goes on, however. Dona Ecy, the widow of Brother Leocy, who passed away last year, maintains contact with her interested neighbors, and they attend the services of the "mother" church in Aracati online. In the meantime, Dona Ecy is improving the meeting area in preparation for in-person services to be resumed as soon as possible. The other eight churches maintain in-person and virtual services.
BI-ANNUAL CONFERENCE OF THE BRAZILIAN NATIONAL BIBLE BAPTIST FELLOWSHIP (online because of the COVID pandemic). I was one of three main speakers, with the largest attending audience ever. Over 2,700 heard my message on evangelism. Summing all decisions, 79 dedicated their lives for the ministry as a result of the conference.
BIBLE MINISTRY – Please see the amazing Annual Report of Harold Ralph and Lílian Gilmer for 2020.
PRAYER:
Projects for the year 2021:
Salvation of Jews and Gentiles.
Help missionaries Harold Ralph and Lílian Gilmer raise the 39% support lacking.
Continuation of churches that are planted or are being planted.
Continuation and expansion of the Jewish Ministry.
Continuation of the Bible Publishing Ministry.
God's blessings on all who pray and give so that our ministries can continue.
Yours for the Messiah,
Tom and Linda Gilmer