Josefina McCoy: December 2020 Annual Report
Josefina McCoy – Missionaries to the Indigenous Tribes of Mexico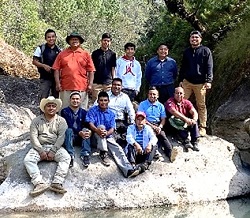 We greet you in the name of our Lord Jesus Christ! We are very grateful to God for each one of you, and for the blessing that you are in our lives and in the ministry of serving God's servants in the mountains of Guerrero who work among the Mixtec, Tlapanec, Amuzgo, and Nahuatl people groups.
By God's grace, we can say: "Hitherto hath the LORD helped us." We are sure that He will continue to help, provide, and guard us until God calls us into His presence. This year has been complicated for all of us. In October, we joined many who have suffered from COVID-19. David and Josiah were not as ill as I was. My experience was high fever for many days, breathing problems, and even until now, weakness and muscular pain. God is more than good to us and has given me another chance to live. I want to take advantage of that opportunity to increase my love for God, my sons, and the work God has given to us. God has done great things in our lives! God has exalted Himself in our ministry and His Word continues to reach forward. He uses small earthen vessels so that the greatness and glory may be to His name.
We praise God that we were able to be in the reunion of all the area pastors that preach to the indigenous tribes: four people groups in the state of Guerrero. Many of the pastors brought their families, and we enjoyed a wonderful time of fellowship together. It was a wonderful meeting!
Thank you for your prayers, economic support, and for the love of the memory of Lyle R. McCoy, whom we know that you fondly remember. May God bless you, recompense you, and multiply all that you have done for us. Although we do not have the privilege of knowing each of you personally, we ask God to keep you from all that is going on in the world.