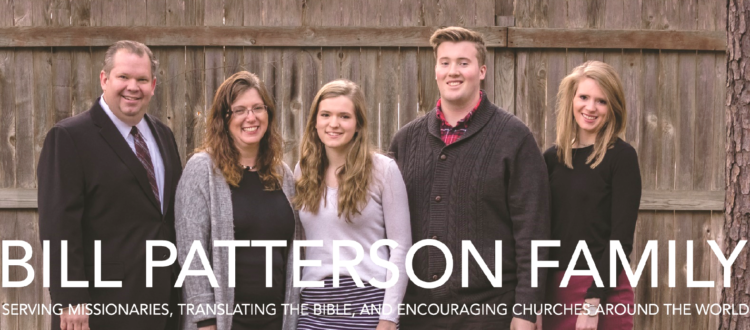 Bill and Marcy Patterson: September 2021 Prayer Letter
Bill and Marcy Patterson – MABMI President, Church Planter, Bible Translator
September 2021 Newsletter
Ministry often dresses up in strange clothes! During the past month, the Lord has allowed us to be involved in a variety of unique opportunities. One of the privileges of ministry is serving others.
Ordination Service: Five years ago, our son called from college to tell us about his residence assistant. Jeff as preparing for ministry but had a deep desire to do Bible translation for unreached people groups. We drove all that next day to meet with this young man. He is now finishing up an internship and is about to begin deputation. It was an honor to be asked to serve on his ordination council and preach at his home church.
Dishwashing, Cooking, and Preaching: Several weeks ago, a Mount Abarim missionary wife, Anaid, found out she had cancer. Their church is going through some growing pains, and her Hispanic church planter husband, Bro. Alex Hernandez, needed help. We drove for fourteen hours to be with them, love on them, help them, and preach in their church. Marcy helped homeschool their children, and I got to work in the kitchen. When we left, we were all crying, thankful to the Lord for the joy of friendship, and praying for special healing.
Special Requests: Several dear ministry friends and family members are going through incredible trials. Please pray for William and Sophie Yant, Marcy's youngest brother who serves in Guatemala, in the loss of their baby. Missionary Jason Ritchie, the leader of our Mongolian Translation Team, is fighting for his life in a battle with COVID and is currently on an ECMO machine. Marcy's Dad, Pastor Bill Yant, is now living alone at the age of 84 in Washington state. Mrs. Gloria King, who served in Spain and at the Mount Abarim Home Office, has been told that multiple tumors have been found in her lungs and bones. Only God!!!
God's Blessings: In a church in Michigan, two surrendered to become Bible translators. In a church in Colorado, four gave their lives for full-time missions. A waitress accepted Christ after hearing the Gospel. A family that was falsely accused was exonerated of any misdeeds. Several hotel clerks listened carefully to a presentation of the Gospel. God answered prayers, time after time, and it was an amazing experience!
Please keep us in your prayers!