Mike and Becky Patterson and The Bethesda Homes – September 2021 Prayer Letter
Dr. Mike and Mrs. Becky Patterson – MABMI President Emeritus and International Representative
Bethesda Children's Homes – Tlapa, Mexico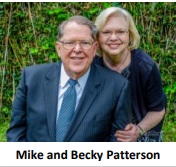 September 24, 2021
Dear Ones:

We were in Mexico for most of August-September. We hosted our annual alumni reunion, with a group of 13 from the USA and 46 from Cuernavaca, including a workday on the farm and a day visit in Tepeyac. The eleven-day meeting was a parade of miracles. Dr. W.W. Weaver and Rev. Jesse Morton both preached with Rev. Alex Ramirez translating. At the invitation Victor Saavedra, the head of state education, was saved. A dear friend, he's attended graduations for years. We are rejoicing.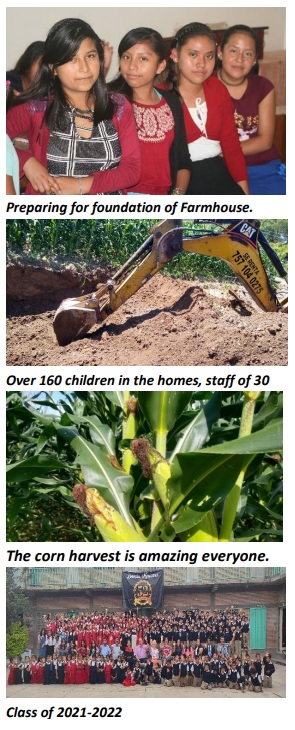 While in Tlapa, I became very ill with cellulitis. It was caused from an abscess on my toe. Marco summoned the doctor who treats the homes for a house-call. I was placed on mega-antibiotic drips and 24-hour nursing care in our little apartment. (I was becoming septic.) I was able to lead the Doc. Oracio Vergara and two of his nurses to Christ. The morning after, the doctor shocked us all. Owner of a hospital and two medical clinics, he graciously offered to open his third clinic at the boys' home. He and his entire staff will be treating the children, giving wellness checkups, and keeping detailed records for us without charge for the children or staff.

On workday, we planted 200, blueberry, blackberry and raspberry plants. Several stalks of bananas are harvested weekly. Corn harvest of a bumper crop has begun. The hand of God is evident to all.
A special offering of $5000 was received and construction of the farmhouse has begun. We are trusting God for another $40 k. Full funding has been promised for the palapa (a teaching facility and future home of a mission) We now have 67 new children without sponsors at $125 per month…Our God is able. We ask your prayers.

Thank you again, In His Love,
Mike Patterson