Mawouli and Josephine Gbolou – Annual Report for 2021 (January 2022)
Mawouli and Josephine Gbolou – Missionaries to Togo, Africa, EGLISE BAPTISTE ''SALUT POUR TOUS''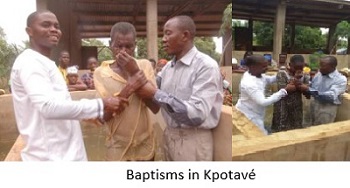 Dear Friends,
Warm greetings from my family and the brethren in Christ Jesus.
2021 was a very challenging and trying year for us as a family and as churches due to the COVID-19 pandemic. The pandemic occasioned the lockdown of churches and other businesses. The mother church in Lomé, Togo remained closed from March 22, 2020, to October 17, 2021 — a total of 19 months or 82 Sundays. Yet, during those months, the Lord has proved His faithfulness and care for us throughout. We have found new ways of service such as sending WhatsApp messages to the brethren twice on Sundays and Wednesdays, meeting in home cells for church service and so on and so forth.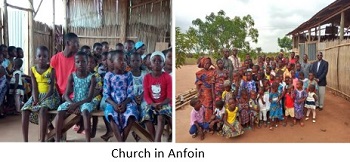 By the grace of God, February 28, 2021, we visited the outreach ministry in Kpotavé and baptized two converts, April 04, 2021, we visited another outreach ministry in Anfoin and November 10, 2021, we baptized six converts after we had resumed service in the mother church. Please find below the pictures.
Please continue to pray with us for : the roofing of my house, the finishing of the mother Church building, financial support for my family and Church buildings for the outreach ministries. May the Lord richly bless you for your prayer support.