John and Dorcas Abedu-Kennedy – Annual Report for 2021 (January 2022)
John and Dorcas Abedu-Kennedy – Church Planter in Apam, Ghana, New Life Baptist Church
MAJOR GOALS REACHED: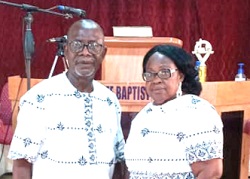 Despite the devastating challenges COVID-19 brought about globally some two and a half years past, the Lord continues to provide new opportunities for HIS services.
We are back to our normal services but observing all COVID-19 protocols.
One student graduated from our BIBLE INSTITUTE last year. One, will also graduate in March this year. This time, we move to the student's home church to do the graduation ceremony to cut down costs and to encourage others. Two men have applied to join the institute and will be interviewed in January.
The Lord answered our prayers by making provision for us to buy a fairly good used vehicle for ministry
PRAYER CONCERNS:
Please be in prayer with us for physical and spiritual strength as we keep on aging, that God may help us to remain grateful to the light CHRIST has brought into our lives to continue to be HIS light in the dark world around us.
We've not had any local Church plant for the past three years. Thank God, HE has answered our prayer and we have prayerfully earmarked on four days in the last week of January 27-30, 2022, for a kick-off service to commence the outreach church plant in Senya Beraku, also in the Central region, about 40 miles from Apam. We have been praying about this ministry for the past three to four years. Our God, the caller has made human logistics ready.
That our 14-year-old granddaughter Charlene, now in Senior High school would keep on trusting God with as it were, the 5% vision left for her in life to live on.